Import Shipping Costs - UPS and DHL Invoices
Shipping costs that are applied to an order are only estimates - not necessarily actual rates charged. For accurate Profit and Loss, you can import actual shipping costs, which will override the estimated costs placed on the order at the time of the label printing. 
SellerCloud can import UPS, DHL Express, and DHL eCommerce (DHL Global Mail) invoices without the need for reformatting. For all other carriers, you can download and populate a template.
---
UPS and DHL Express
For UPS shipping cost, use the file from UPS called
UPS Billing Data File - XML
.
Pulling the file from UPS requires enrolling 
here
.
DHL Express shipping cost can be calculated during order creation by clicking the Calculate link in the order's Shipping Method section. However, SellerCloud will only calculate it if a shipping weight was entered. Due to DHL's less than one lb / more than one lb system, weight is often not entered. Therefore, this tool is essential for orders shipped via DHL.
Go to Orders > Import Shipping Cost.
For UPS and DHL, click their respective tabs.
Choose the invoice file and Import Shipping Cost.
---
DHL eCommerce (DHL Global Mail)
DHL eCommerce through Endicia does not return shipping costs, so SellerCloud cannot automatically add it to orders. Setting the shipping cost on these orders requires importing it:
Go to Orders > Import Tracking Info.
Choose the CD DHL Tracking Cost Import plugin. This plugin may need to be installed on your server; if so, contact SellerCloud Support.
Choose the DHL Ecommerce file > Import Tracking Details.
This process can be automated through a
scheduled task
. Use the task "Import Order" with the DHL Shipping Cost plugin.  
---
Other carriers
To reconcile all other carriers:
Click Orders > Import Shipping Cost > Download Sample.
Populate the columns with the OrderID or the Tracking Number as the identifier, enter the Shipping Cost, and save the file.
Click Choose File to select the populated file.
Click Import Shipping Cost for the carrier to reconcile (SellerCloud handles formats for UPS, UPS Mail Innovations, and DHL Global).
---
Enabling invoices using XML format
DHL ecommerce - You can request XML format invoices from your DHL account representative. An FTP account is set up by DHL, ftp.dhlglobalmail.com, to drop off the files, and SellerCloud picks them up using a scheduled task.
UPS - You can configure this on your account and it will generate XML files. You can download these XML files from the UPS billing portal.
After the shipping file is imported, SellerCloud updates the shipping cost on the order and you can see details of the charges.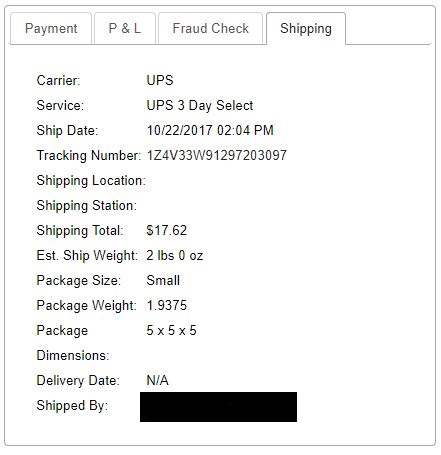 ---
---