Post Detailed Shipped Orders to Quickbooks
Posting detailed shipped orders to Quick Books will create an invoice for each order individually. However, there are settings to create a generic customer for each channel. (Be sure that your
QuickBridge Settings
have been configured to your requirements.)
It's a good idea to reconcile payments from the SellerCloud interim account to your actual bank account that payments are being entered into.
Posting Orders to QuickBooks
Make sure that QuickBooks is open and running on the same computer as QuickBridge.
Select QuickBooks from the menu bar.
Select Post Detailed Shipped Orders to QuickBooks.
Select the appropriate dates and click the Get Shipped Orders button.
The grid will populate with orders that have not yet been exported to QuickBooks. Note: the Channel filter will only offer channel selections when there are orders from that channel in the specified date range.
Click on Post Invoices to QuickBooks and wait for confirmation. You're Done!
The orders will be marked as "Exported" in SellerCloud to prevent them from exporting again. If you need to update an order and repost, change the status to "Not Exported". The order will reappear in QuickBridge. Client setting EnableQuickBooksWorkFlow must be enabled.
Where Exported Order Data is Placed in QuickBooks
Customers - New customer accounts are created for every new customer. Returning customers will have their orders placed in their existing accounts. Channel orders can be set to generic customer (File > Options > Main tab). Otherwise, the customer name in QuickBooks will be populated by the order number.
Payments - All orders are considered paid so they are not entered into Account Receivable. Instead, channel orders are placed into interim accounts created by QuickBridge (Amazon Interim Account, eBay Interim Account etc..) with a paid status. The balance in these accounts can then be transferred manually into a bank account.
Products - All new products are entered into Items and Services with the adjusted value on hand. If a new item is being created, the inventory on hand will show negative quantity.
Shipping costs and Commission Fees - These costs are exported to Accounts Payable as bills to a vendor, like the various carriers and channels (vendor accounts are created as orders are imported. e.g. PayPal Fees, Commission Fee).
Posting Orders in Foreign Currency
By default, orders in foreign currency will post to QuickBooks in USD using the conversion rate saved on the order.
Beginning with version 1.0.9.8 you can post orders in the foreign currency in conjunction with the multi-currency feature in QuickBooks.
To enable this, go to File > Options > QB Version and select "Use Multi-Currency Feature in QuickBooks".
Please read the following important points before selecting this option in QuickBridge
Only select this option if the Multi-Currency feature is enabled in QuickBooks.
You can only assign one currency per customer profile in QuickBooks. Therefore, you would need to create separate customer profiles in SellerCloud for customers with multiple currency orders.
All orders for existing QuickBooks customers will use the existing currency code. For orders where the customer doesn't exist in QuickBooks, QuickBridge will create the customer with the orders currency code. All future orders for that customer will use that currency code.
If a customer already exists in QuickBooks using an unwanted currency code, alter the existing customer name slightly and QuickBridge will re-create the customer with the subsequent orders currency code.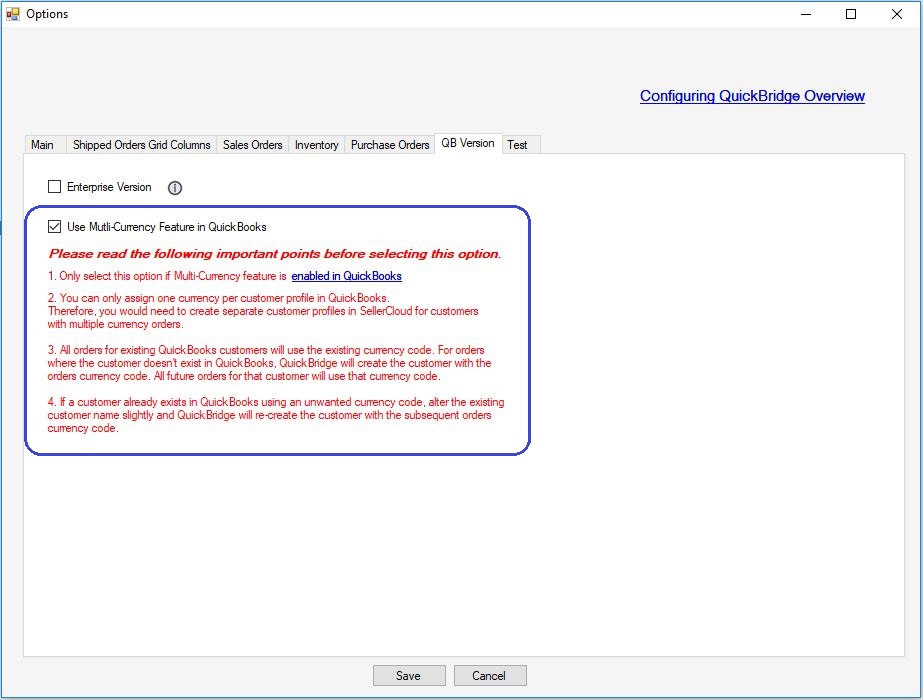 ---
---