Scheduling with Product Group Set
Scheduling an eBay auction with a Product Group Set is similar to scheduling with a Product Group Series. It will enable you to create a campaign of multiple products. This will eliminate the legwork of scheduling each individual product. This feature is usually utilized when creating a campaign for similar products. However, whereas a Series is a random posting of the groups products at set intervals that begin at the same time, a Product Group Set gives you much more control. You can set a different start date and time for each product in the group, and each with a unique format and posting interval.
Hover over the Inventory tab, scroll down to Product Groups and select Product Set from the side menu.
Select Create New Product Group Set from Action Menu.
Choose company and enter a Group Set name.
Select a Product Group. Read more about Product Groups.
Enter a start date (and an end date if applicable) 
Check Enable Listings.
Check Recurring if you want the campaign to repeat.  

Important Note: The Windows service "eBayProductListingService" must be enabled in order to allow a recurring auction. This can be enabled by SellerCloud Support. 

Enter day of week and time of day format and duration for each product in the group.
Click Generate on the Action Menu.
If the product is eBay ready a green check will appear next to the item. A red X will appear if the item is not. Hover over the red X and a message will appear listing all necessary actions needed.
Access a Product Group Set either through the Inventory > Product Groups or at the product level – ToolBox > Product Group > Set.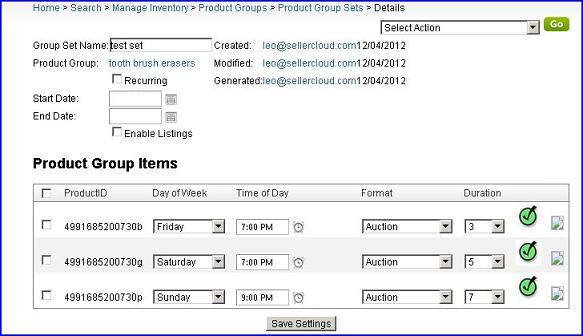 ---
---