Shopify Orders
Shopify orders will download into SellerCloud periodically. After the order is shipped, confirmation - tracking number and shipdate, will be updated on Shopify automatically.
You can map Shopify shipping methods to SellerCloud shipping methods, so that orders download with the appropriate shipping method. Read more
here
.  
Gift messages will display in the Gift Order Notes and will print on the invoice/packing slip.
---
Shopify Fraud Check
On the Shopify General Setting page, enable Fraud Check to retrieve orders' risk analysis from Shopify.
Orders flagged by Shopify as "Cancel" or "Investigate" will be placed on hold.
It's worthwhile to create a saved search for such order and display on your dashboard. That will allow to to more easily monitor and manage such orders.
---
Cancel or Issue Refund for Shopify Orders
Cancel an unshipped Shopify order, or refund a shipped order. This can be done on an item level, allowing 
Go to the order detail page.
Select Cancel/Issue Refund from the action menu. Press Go.
On the following page all items in the order will display in the grid. The refund total for each item defaults to full price, but it can be modified.
Select each item you wish to cancel or refund. The total refund amount will display below the grid.
Select a reason to for cancel/refund.
Select from applicable options:

Email Customer
Cancel without refund
DO NOT send to Shopify - to cancel locally.

Press Continue.
---
Email Tracking to Customers
Shopify orders that have updated tracking can send automated emails to the customers.  This can be enabled from your Company Toolbox > Website > SellerCloud Integrated Website > Shopify General - enable Notify Customer For Tracking.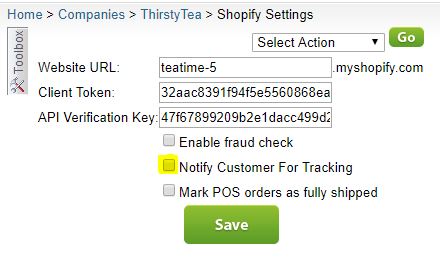 ---
---
---