Configuring SellerCloud for FBA Inbound Shipments
Please read first! This topic explains how to configure SellerCloud for FBA inbound shipments in the Delta interface. For instructions in SellerCloud's original interface, please download this file or watch this video.
---
Check out this short tour on FBA inbound shipments! See how easy it is to use the handy shipment wizard after you configure SellerCloud for these shipments.
---
Prerequisite: You must be enrolled in Fulfillment by Amazon before you can create an FBA inbound shipment.
Preparing SellerCloud to allow for, and optimize, FBA inbound shipments, requires several simple configurations:
Warehouse configurations:
Product configurations:
---
Warehouse configurations
Configuring the Ship To warehouses
SellerCloud tracks inventory through warehouses, so you must set up two warehouses to track FBA inbound shipments:
warehouse to track inventory at the Amazon Fulfillment Center
warehouse for inventory while in transit to FBA
The process works as follows: When the items are added to an FBA inbound shipment, their quantity become reserved in the regular warehouse. After the shipment is marked as shipped, the inventory moves to the in-transit warehouse. As the shipment is received by FBA, inventory automatically moves from the in-transit warehouse to the FBA warehouse. 
To configure the Ship-To warehouses:
Click Settings > Company > Inventory > Add New Warehouse, or search for "add warehouse" and click it.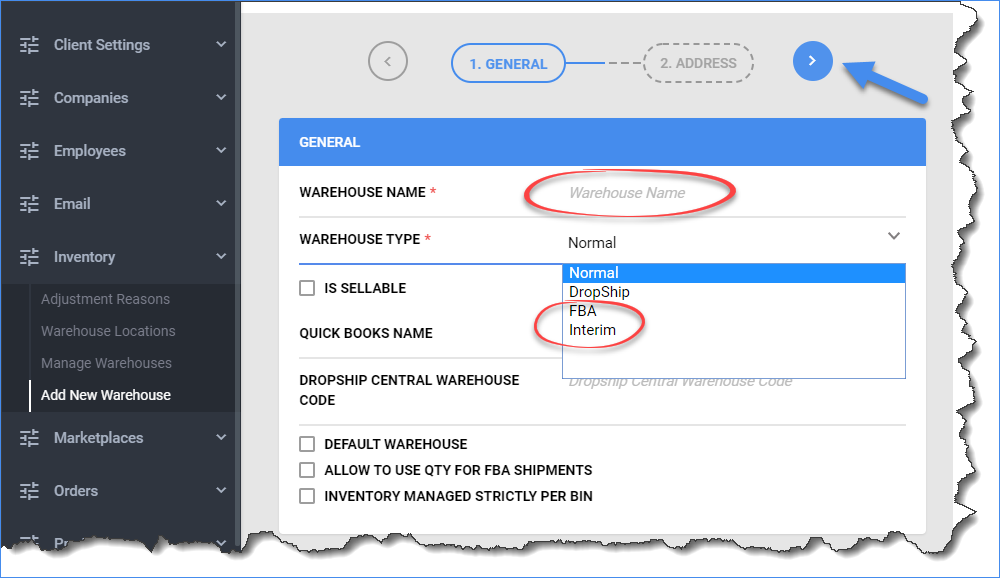 Name your warehouse, such as "FBA Warehouse."
Select FBA as the warehouse type and save. 
Add another warehouse and name it, such as "In-Transit to FBA."
Choose Interim as the warehouse type and save.
Configuring the Ship From warehouse
By default, you can add items to your shipment even if the items have no inventory in your catalog. This may be done if you expect a purchase order to arrive shortly, but you want to set up the shipment before it arrives.
If you want a check on this, select Enable Validate Inventory For FBA Inbound Shipments in your Client Settings: Click General Client Settings > enable the Advanced toggle > Channels > FBA General section > Save.

If enabled, the shipment will not preview if the product has less inventory than the quantity you are adding to the shipment.




A second Client Setting - Validate FBA Shipment Inventory per warehouse only - should only be enabled if you want to narrow the validation to the Ship From warehouse. Click General Client Settings > enable the Advanced toggle > Channels > FBA General section > Save.

To require inventory validation, you must allow inventory for that product to be available from specific warehouses. On the warehouse, enable the setting Allow to use qty for FBA Shipments.
The warehouse from which you are shipping to FBA must have the correct address. The Ship From address on an FBA inbound shipment is pulled from the warehouse address, not from the company address.
Channel warehouse configuration
By matching the FBA warehouse to the channel, FBA inventory reports will update the inventory of the correct warehouse:
Click your Company > Toolbox > Channel Warehouse.




Find the FBA channel row > select FBA Warehouse. 
Click Save Settings at the bottom of the page.
---
Product configurations
Fulfilled by Amazon setting
Items added to an FBA inbound shipment must be in your Amazon catalog as a Fulfilled by Amazon product. On the Amazon properties page, if the product is "Fulfilled by Merchant:"
Click Menu > Change Fulfilled By.
If product is posted to Amazon, click Save. (The Update on Amazon box is selected by default.)
If product is not posted to Amazon, uncheck Update on Amazon > Save.
Launch the product to Amazon as an Amazon Fulfilled product.
It may take up to 15 minutes before Amazon processes your product and puts it into FBA inventory.
By default, new items created in SellerCloud will have a Merchant Fulfilled status, but you can control this at the company level for all products as follows: Open the company > Toolbox > Amazon Settings > Product Defaults > set the Fulfilled By field to Amazon > Save.
To update multiple products to Fulfilled by Amazon:
Select the products on the Manage Inventory page > click Action Menu > click Switch to AFN. This changes the product in SellerCloud and also automatically updates Amazon, so it should only be done for products that are already posted to Amazon. 

To update the Fulfilled By status in SellerCloud with a bulk-update file:
Use the column header FulfilledBy and enter the values Amazon or Merchant. A bulk update file will only update the status in SellerCloud; the products' status will not change on Seller Central.
Getting the product's FNSKU
The FNSKU (FBA SKU) is an Amazon product identifier that they use for FBA inventory. This is required for each product that you add to an FBA inbound shipment.
After products are in FBA inventory, you can retrieve the FNSKU in one of three ways:
Click the product's Amazon Properties > Action Menu > Get FNSKU 
On the Manage Inventory page > select products > Action Menu > Get FNSKU
FBA inbound shipment wizard > add the product > Products tab > click the product's Get FNSKU icon
---
Amazon labeling service
Unless items are eligible for commingling, each item shipped to FBA must have labels affixed on them. You can apply the labels or use the Amazon Label Service to have Amazon apply labels on your behalf. 
Open your Seller Central account. 
Open the Settings dropdown and scroll to Fulfillment by Amazon. 
Press the Edit button on the Optional Services section and enable the MWS service. 
Select the labeling preference to determine who labels the shipment's items by default. The following three options only apply to items that require labeling. Note that this sets the default labeling option, but you can also override each shipment individually:
Amazon should label the items  and reject items that cannot be labeled. Note that Amazon charges a fee per item for labeling. 
FBA should label my items, however I will label my items as necessary. Amazon will label any items that you have not labeled.
 I will label my items. You will label your items and Amazon will reject items that are not labeled. 
---
---