ChannelMax Feed Configuration
To configure a feed for ChannelMax, you need to do the following steps:

1. Setup an FTP folder:
Create a new FTP account and folder, if you do not have one already. SellerCloud can provide an FTP for ChannelMax for a $25 monthly charge and a 37.50 one time setup fee.
2. Configure FTP in SellerCloud.
Navigate
Company >
Toolbox > Product Feeds > CM
. Enter credentials into the fields. SellerCloud will drop the feed into this folder and CM will pick it up and process it. From the action menu, do the action
Test Credentials
to make sure SellerCloud can connect to the FTP site.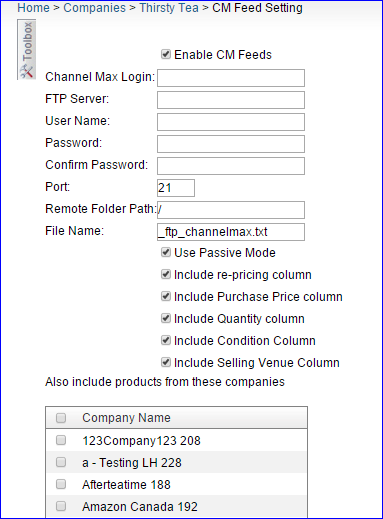 In SellerCloud on the ChannelMax Feed Setting page, check the options to determine product information to be included in the ChannelMax feed. The options checked should match what is set on ChannelMax.
The following fields are always included in the feed: sku, asin, maximum-selling-price, minimum-selling-price, map, fba.
The following fields are controlled based off settings in the above image: condition, RepricingModelID, purchase-price, quantity, Sellingvenue. The Include in repricing column option must be enabled.
Although you are setting up the feed in a given company, you can use the "Companies" checkbox to include products from other companies in the feed.
5. Set High/Low Prices for products:
SellerCloud will send the Amazon Price as the high and the Stop Loss Price as the low. These prices are set on the Amazon Properties page of each individual product.

6. Enable Settings to Include Product in Feed:
Enable client setting: Show Min. and Max. fields on eBay and Buy.com product pages
Enable CM Feeds (See above image)
Use Stop Loss Price - Product > Toolbox > Amazon Properties
Include in CM Feed - Product > Toolbox > Amazon Properties
7. Test Upload of feed:
From the action menu, click Generate Feed and Upload. After it finishes, check the ftp folder to see the file that was generated.
---
Bulk Update Channel Max Products
If products and settings have already been set on ChannelMax, you can download a file of those settings from ChannelMax and import it into SellerCloud using the import button on the CM Feed Settings page.

To update the product values in bulk, use the
Bulk Update Products
feature with the following column headers:
IncludeInCMFeed - (True or False)
UseStopLossPrice - (True or False)
StopLossPrice - (dollar value)
AmazonPrice - (dollar value)
ASIN - (text)
---
---