Create Listings on Houzz
Products can be posted directly from SellerCloud to create listings on Houzz. The products are uploaded to an FTP supplied by Houzz through a product export plugin. There is no Houzz Properties page. Rather, required fields must be populated on the product home page and in custom columns. The plugin can be set up to run on schedule. However, unless you are constantly updating products, the task should not be constantly run, as it exports all product information needlessly. 
Please note that there is a separate plugin that can be used to update inventory and price with a scheduled task.
---
List products to Houzz
Read more about listing guidelines for Houzz 
here
.
Complete the following required standard fields located on the product home page:
Description - Long description
UPC (if it exists) 
Quantity
Price - Site Price
Product dimensions - the Product Width/Height/Length fields 
Shipping dimensions  - Ship Width/Height/Length fields
Image requirements  - All images must be clear and high resolution and a minimum of 400x400 pixels. Images cannot contain watermarks, logos, landmarks, or people. Each product must have at least 1 image representing the product by itself on a white background and 1 image representing the product in a room or related space.
Create a custom column that corresponds to the remaining required fields and populate.
Category - CATEGORY  
Style - STYLE 
Shipping costs - STANDARD_SHIPPING and EXPEDITED_SHIPPING
Lead time to ship - LEADTIMEMIN and LEADTIMEMAX
Variations dimensions (if applicable) - COLOR, SIZE, and MATERIALS
Create a saved search that includes products you want to post to Houzz.
Create a scheduled task for product exports. Select the Houzz product export plugin and select the saved search created for Houzz.
Enter the Houzz FTP information.
Enable the task and save. The task will pick up the product and post them to Houzz. As stated earlier you may not want to run the task continuously. You can leave the task not enabled, and execute it manually from the main scheduled task page.

Posting Products to Houzz via API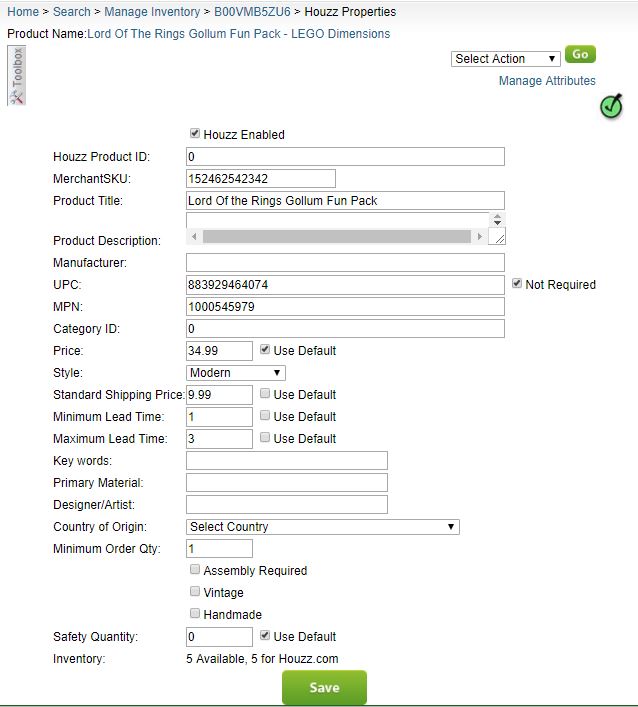 In order to post a product via Houzz API, certain requirements has to be met.
Required fields:
Houzz Product ID - assigned by Houzz
MerchantSKU - Merchant SKU for the product.
Product Title - Title used by Houzz.
Product Description - Product description for Houzz.
Manufacturer - Manufacturer, can be copied from the Product Summary.
UPC - Some product categories may not require the UPS. Enable the checkbox in such cases.
MPN - Manufacturer part number
Category - Houzz categories have unique ID. Download this file to check the related category.
Style - required field, choose an option from the dropdown.
Price related settings - similar to other channels. Default values can be used.
Key Words (optional) - limited to 300 characters maximum. 
Primary Material, Designer/Artist (optional) - optional fields that can provide more info about the product.
Country of Origin - Select from the dropdown.
This file
contains detailed info about Houzz requirements and the different categories and attributes.
---
---