Post General Journal Entries
This feature lets you post the sum totals of orders' transactions to their specified accounts in QuickBooks. Totals are summed up by mapped journal entry types.
Posting general journal entries is an alternative to posting each order individually with the QuickBridge function Post Detailed Sales Order To QuickBooks since it helps minimize potential performance issues with QuickBooks limitations. (For details, see QuickBooks' general journal entries article.)
---
Mapping and posting workflow
The workflow comprises 3 main steps in QuickBridge:
Configure your QuickBridge Settings.
Map the journal entry types. Mapping requires setup by a competent accounting professional.
Map to an account or to an account's sub-account with this format: main account name: sub-account name
Map using account numbers in QuickBridge if you are using account numbers in QuickBooks
Post the general journal entries to QuickBooks.
Important! Debit and credit account names you use must exist in QuickBooks' Chart of Accounts before posting. Associated names you use must also exist in their respective lists for the same reason. These accounts and names will not be automatically created in QuickBooks during posting!
---
Mapping and posting entries
Ensure that QuickBooks is open and running on the same computer as QuickBridge.
In QuickBridge, click QuickBooks Posting Options > Post General Journal Entries.




Clicking QuickBooks Settings opens an alternative way of viewing and editing your existing mappings per company, across all channels, on SellerCloud's Journal Entry Mappings page. While this is convenient for viewing and editing purposes, it is not recommended for entering your initial mappings, as this can lead to mapping irrelevant journal entry types for relevant channels, or even for irrelevant channels.

Enter the Trans Start Date and Trans End Date, and choose a Company and Channel.
To post transactions by Settlement ID, enter it to see all transactions associated with that ID. Currently, this is relevant for Amazon, FBA, eBay, Walmart Marketplace, and Newegg.




Note: If you entered a settlement ID, clicking Get Data will change the Trans Start Date and Trans End Date to the start and end dates of that settlement. This also changes Transaction Date to the settlement's end date.
Transaction Date - If you are not filtering by settlement ID, enter the preferred date for the journal entry. If you do not enter a date, the field will populate with today's date.
You can filter Trans Type by Order or Non-Order fees. Currently, this is only relevant for Amazon and FBA. This may be useful for bringing in non-order related fees when using Post Detailed Shipped Orders to QuickBooks.
Each transaction has a checkbox to include/exclude it in the export. The header checkbox will select/unselect all transactions (all transactions are selected by default).

This is useful to map one journal entry type to two different QuickBooks accounts, by separating the transactions and making a second posting with the specified mappings.

Optional: To export data from the grid, click the left-side Excel icon to open the journal entries in an Excel file.
Note that the Posting Amounts section shows totals for display purposes only; these do not reflect the exact breakdown of the journal entry types with specific amounts; to preview the exact breakdown of the actual posting amounts, click Accounts.
If you change your selection of transactions in the grid, Posting Amounts will automatically update upon clicking the Accounts button.
Under the Posting Information section, click Accounts to open the account mapping and totals to post to each account.




Order transaction types:




Non-order transaction types:




Four fields are editable

:

QB Debit Account Full Name - Map this to a QuickBooks Chart of Accounts account
QB Debit Customer Full Name - Map this to a QuickBooks vendor or customer, based on the Chart of Accounts account used
QB Credit Account Full Name - Map this to a QuickBooks Chart of Accounts account
QB Credit Customer Full Name - Map this to a QuickBooks vendor or customer, based on the Chart of Accounts account used

To avoid errors, all names used here in QuickBridge must exactly match their corresponding names in QuickBooks.
Repeat the mappings for all journal entry types for a channel, and repeat for each channel.
Click Save Accounts > Close. The new values will be saved back to SellerCloud.
Click Post Journal Entries to QuickBooks to export the general journal entries to QuickBooks.
You can always see information that was posted by opening the main QuickBridge menu > Help >
Posting Log
. This shows the current day's posting by default, but you can open the displayed folder to see all previous posting logs.
---
Related QuickBridge settings
There are several QuickBridge settings to configure when using the Post General Journal Entries feature. These include: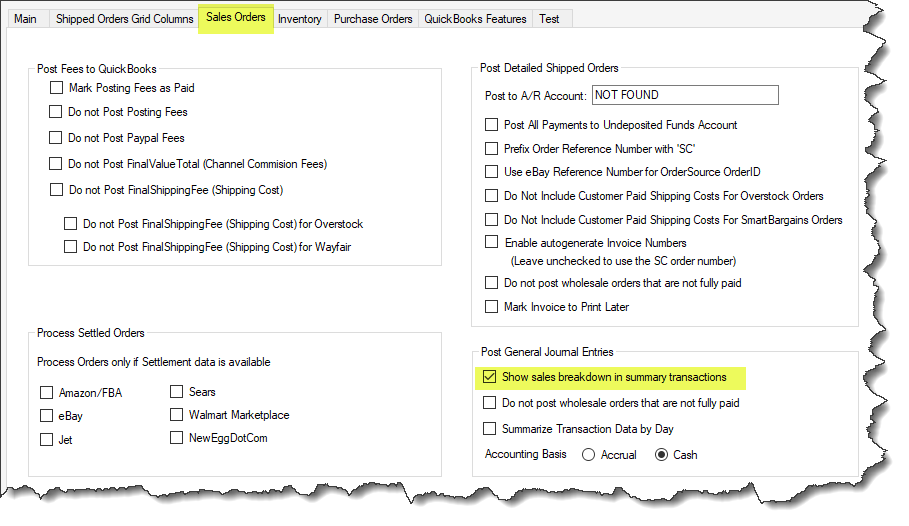 Show sales breakdown in summary transactions (File > Options > Sales Orders tab) - This will impact the Sales journal entry type.

If unchecked (default) - Sales will be the Grand Total of the order
If checked - Sales will be separated into the following journal entry types:

SubTotal
Discount
ShippingDiscount
SalesTax
ShippingTotal
Handling
Insurance
GiftWrapCharge

Summarize Transaction Data by Day - Each date with transactions will have its own journal entry instead of one journal entry for all dates with transactions within your selected date range. Use this setting to see your sales activity in QuickBooks by its actual transaction date, not by your posting date.
---
---