Vendor Promotions
Sometimes a vendor will run a promotion on a product through a specified period of time. SellerCloud allows you to enter these promotions into the system so that throughout the promotional period purchase orders will automatically reflect the promotional prices. See below for default promotion for all products.
To add a promotion to a product: 
1) Go to Company Settings and select the company for which you will be recording the promotion. 
2) Open the Toolbox menu and select Vendors from the bottom of the menu list.
3)Select Promotions from the bottom of the left menu on the vendor page. 
4) Click Add New Promotion link (below the search button)
5) Enter the name of the promotion and its applicable date range and then click Save.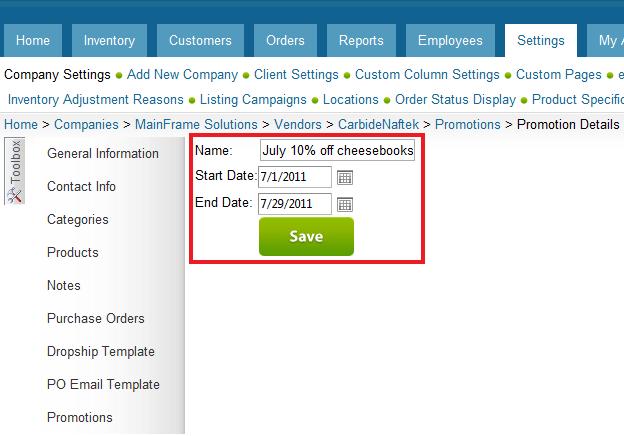 6) Click on the Add Products link to specify which products will have special pricing applied under this promotion.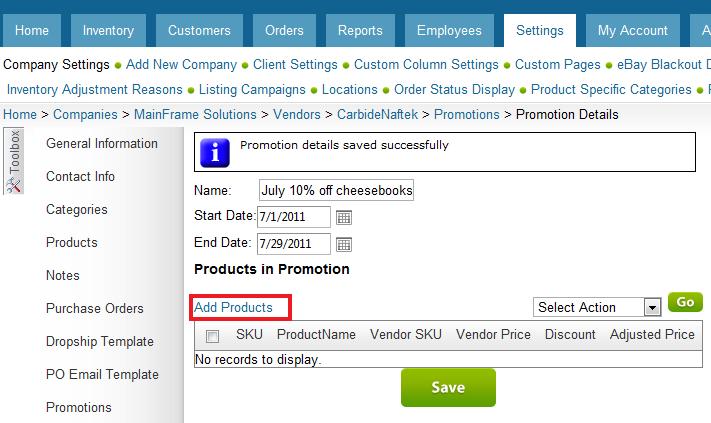 7) In the popup that opens you can search for the product SKU that you will be assigning to this promotion and specify whether the discount will be a dollar amount or a percentage per unit.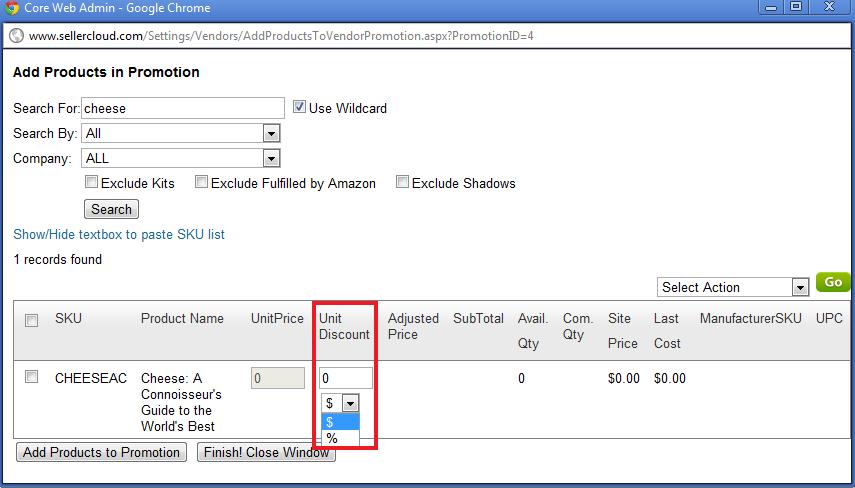 8) Click the Add Products to Promotion button at the bottom of the page to add the product and then click the Finish button when you are done working in this window.
9) After all desired products are applied to the promotion, you can come back to the promotion at any time to make changes to the SKUs affected by the promotion and/or the values of the discounts.

---
To set a default promotion for all products
There is also an option to set a default promotion for a vendor, for example if the vendor always gives you a 10% discount off the listed price you can have it default to 10% when adding an item to a PO. If there is a product specific promotion it will take precedence over the vendor default promotion.
Note: Throughout the duration of the promotion the promotional rates will be automatically applied to purchased orders. This means that applying discounts to purchase orders while the promotion is running may result in inaccurate pricing and bookkeeping records. 
Note: SellerCloud will apply the promotional products to the PO based on the PO date, NOT based on the current date. 
---
---