Bulk update dropshipping
To update multiple products to a DropShip mode:
Select Bulk Update Products under Inventory. Click Get Template file if you do not have one already and a template file window will open. Choose how you want to identify the product – either UPC or Product ID (SKU) – then choose a template format. Select DropShipMode from the Fields Menu and click Add to List. Click Download Template.
Open the template and enter the identification values for all products you want to update. In the DropShip column enter the value 2. Save template.
On the Bulk Update Products window choose the correlating product identification mode, select a template file, and select correlating product type. Select Que for Processing (this will enable you to initiate other jobs simultaneously) and submit.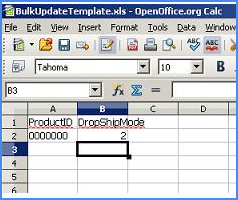 ---
Updating Dropship mode in bulk
In Sellercloud, you can update your dropship information through a bulk update file. This allows you to manage the preferences of multiple dropshipped products.
Select 

Catalog

 > 

Tools

 > 

Import Product Info

 > 

Bulk Product Update

.

Click 

Generate Template

 > 

Create New Template

 > 

Next.

 If you already have a template, select 

Choose Existing Template

.

Choose 

Format

 > 

Next

 > 

Add Columns to Template

.