Overview
In Sellercloud, you can update order information for Top  from a single platform. Here, you can cancel, refund, and customize shipping methods, as well as monitor the status of your TopHatter orders.
You are not allowed to cancel or refund an order until either partial or full payment has been applied to that order.
---
Automate Order Download and Tracking Upload
You can automate the process of order downloads and tracking uploads by following these steps:
Go to Settings > Companies > Manage Companies > Select a company > Toolbox > Channels > TopHatter > General Settings > Edit.
Check the settings Enable Order Download and Enable Order Fullfillment Upload.
Note: Orders download approximately every 30 minutes and tracking and ship date will automatically be sent to update the order status on TopHatter.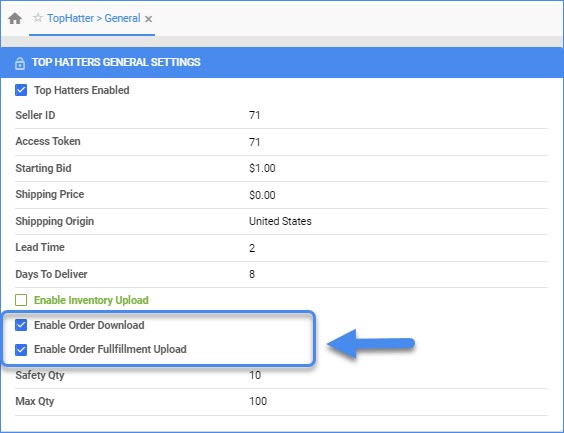 ---
Cancel a TopHatter Order
To cancel an order on the TopHatter site in Sellercloud, follow the steps below.
Go to Orders > Manage Orders.
Open the order you want to cancel.
In the upper right, click Actions, and select Cancel Order.
Specify the reason for canceling the order.
Select the Partial Refund checkbox to select the list of fees to be refunded.
At the top of the wizard, click the TopHatter Cancel Order button.

---
Refund a TopHatter Order
To issue a Refund on returned items, follow the steps below.
Go to Orders > Manage Orders.
Open the requested order. Here, you can filter orders by setting the channel to display TopHatter orders only.
In the Operation Type field, select whether a refund should be issued issued via a check or another method indicated within the Refund Method If issued by check, enter the relevant Check Number under the Other Info panel. For other methods, you may also want to add the number for the associated document.
In the Amount To Refund field, enter the total amount to be refunded. This defaults to the Total Amount Paid.
Select the Refund Date according to when the operation will be logged. This defaults to the current date.
Additionally, you may also select the Add Refund Amount As Discount To Order checkbox to apply the discount to the refunded amount if necessary.
In the Notes field, briefly explain why the payment is being refunded.
At the top, click the Refund button to proceed.
Once processed, Sellercloud will send the new Order Payment status to TopHatter through the integration API.
The relevant note will appear on the Order under the Notes panel.
---