Overview
The instructions below describe how to configure a FedEx carrier, including per-company configuration.
If you don't have a FedEx account yet, the corresponding section of this article will help you to create one. You can use FedEx Web Services as the shipping generator.
---
Configure FedEx Web Services
Configuring FedEx Web Services is a simple and seamless process in Shipbridge. Using this feature requires de-selecting the setting Fedex Disable Parent Credentials on ShipBridge's Admin tab. Contact Sellercloud Support for assistance.
I have a FedEx Account
If you already have an account and simply want to add another one, follow the steps below.
Click the Don't use FedEx radio button.
Click Save.
Clear the Account #, Meter #, API Key, and API Password fields.
Click the Use FedEx Web Services radio button.
Click the Register button that now appears and follow Steps 5-7 below.
I Do Not Have a FedEx Account
The procedure below is for setting up a FedEx web services account for the first time.  Adding another account will not affect your existing FedEx account.
Click Menu > Options > Carriers > FedEx tab.
Click the Use FedEx Web Services radio button. The screen refreshes with the Web Services options.
Do not complete the Account #, Meter #, API Key, or API Password fields. FedEx will automatically populate all of these fields for you after you click Register and complete the steps below.
Click Register.
Read and accept the license agreement and click Continue.
The FedEx Registration form appears; complete all its required fields.

The address must be the current Account Details address registered with FedEx.

Click Register. FedEx will automatically populate the four account fields in Shipbridge and send all of your information to Sellercloud.
---
Configure Per-Company Shipping
Different shipping credentials can be set in Shipbridge for each company. This can be useful to organize your workflow and have different shipping options.
In Shipbridge, go to Menu > Options > Carriers tab.
For each of the available carriers (USP, FedEx, DLH, etc..) in the related tab, there is the Per-company configuration button. The setup is similar for all carriers, but the required credentials will be specific to the carrier.
Example for FedEx:
Go to Menu > Options > Carriers > Fed Ex.
Click on the Per-company configuration and enable the check box on top.
Click the Edit button for the company in question and enter your credentials.
Test the credentials before you save them to ensure they are correctly filled.
---
Ship with FedEx SmartPost
FedEx SmartPost is a cost-effective FedEx shipping service that uses the U.S. Postal Service for final delivery.
Connect your FedEx account through Webservices or ShipManager.
Select the SmartPost Hub with which your account is associated (the hub to where your shipment will be initially processed).
Set a SmartPost Endorsement type as preferred. For Standard Mail shipments, only one Ancillary Endorsement is permitted when delivery confirmation is requested: RETURN SERVICE REQUESTED or ADDRESS SERVICE REQUESTED. No other Endorsement type will be permitted.
The SmartPost tracking number should be set to use the USPS tracking (FedEx Tab in Shipbridge). This number will be traceable on the FedEx website.
Set up your printers to print SmartPost labels for their various shipping methods with the Label Printer Configuration.
Third-Party SmartPost Shipper Accounts
Some channels require you to ship under their FedEx SmartPost account. This is different than third-party billing where you are shipping under your account, but billing to a third-party account.
If this is required by the channel, set up a separate web service for the channel using the Per-Company Configuration. You must create a separate company under which you will ship those orders.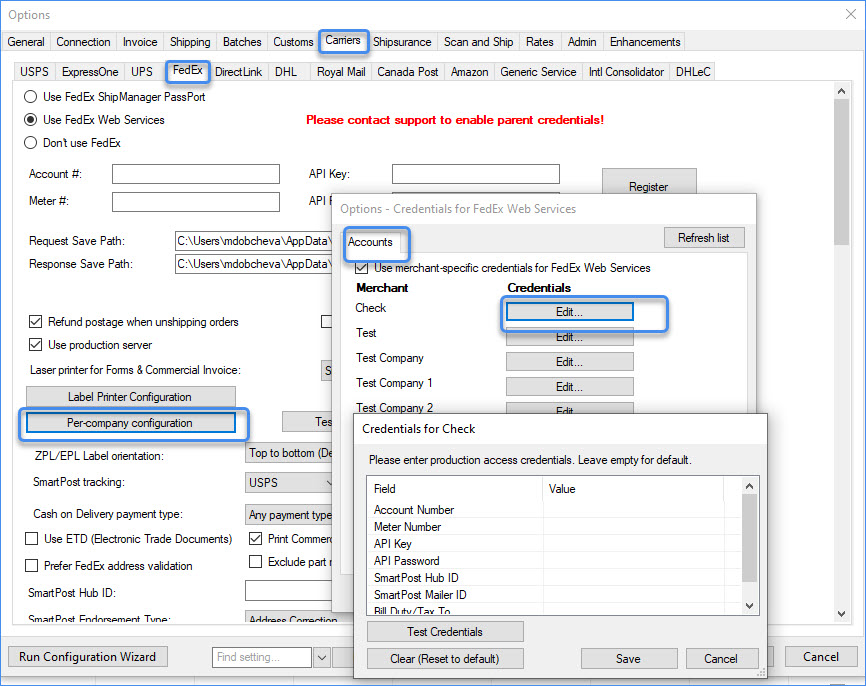 ---