Understanding UPS services
The United Parcel Service (UPS) is an American multinational package delivery and supply chain management company that offers both domestic and international shipping, as well as freight services. To use UPS as a shipping carrier in ShipBridge, you can configure it by choosing UPS WorldShip or UPS Web Services as the shipping generator. See the corresponding previews for the setup of either shipping generator tool in ShipBridge:
Learn more about shipping with UPS.
---
Understanding ShipBridge UPS settings
ShpiBridge provides you with many optional settings whether you choose WorldShip or Web Services.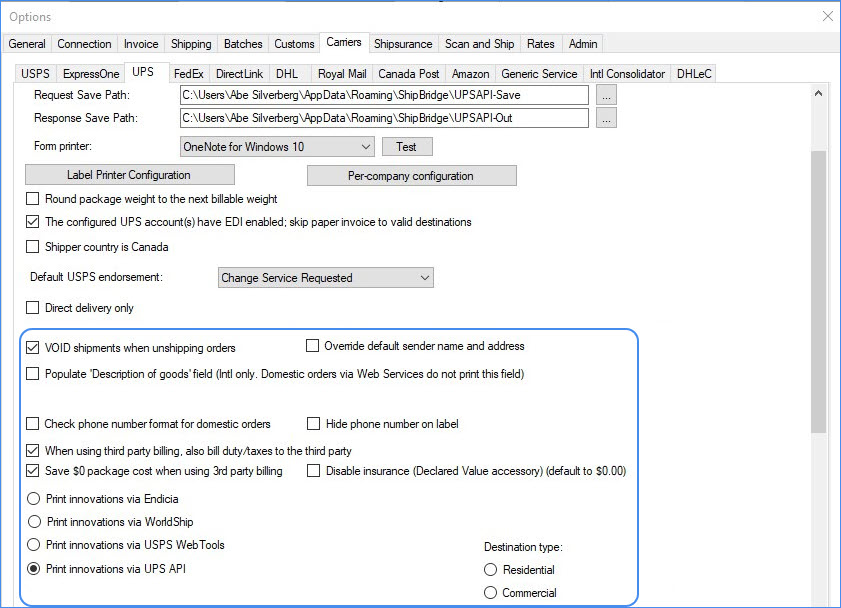 Click the accordion below to view a table that lists the options relevant for both WorldShip and Web Services shipping generators. 
Setting

 

Definition

 

Void Shipments when unshipping orders

 

Automatically voids the label/tracking number when unshipping an order

Override default sender name and address

 

Uses sender name and address (as set up in WorldShip) as the return address instead of the company name and address in

Sellercloud

Populate "Description of Goods" field

 

Populates the Description of Goods field with

product name

 

For 

WorldShip

users – Domestic and International 

 

Webservice Users – Domestic only

Check phone number format for domestic orders

 

Uses the phone number format when the number has been pre-validated in Sellercloud

Hide phone number on label

 

Do not show the customer's phone number

When using third part billing, also bill duty /taxes to the third party

 

Check this option to bill duty or taxies to the third-party

Save $0 package cost when using 3rd party billing

 

Saves the shipping costs to the order with a value of $0 when using third-party billing

Disable Insurance (Declared Value 

accessory) (

default to $0)

 

Disables insurance globally for UPS

 

Print Innovations via <option>

 

Four options to print UPS Mail Innovations Labels:

Endicia

WorldShip

USPS Web Tools

UPS API

 

Destination type

 

Default destination type

Configure third party billing

 

Read 

here

about third-party billing

Configure per merchant account

 

Use this option to configure a unique UPS WorldShip account for any merchant

Require delivery confirmation

 

Select methods that will require confirmation

Require signature confirmation

 

Select methods that will require confirmation

Disable Delivery Confirmation for all regular UPS services but enable for MI

 

Possible savings with UPS's lower rates for confirmation services

 

Enable Declared Value Threshold

 

The threshold that declared value of shipment must meet or exceed in order to request insurance

Round DV to the nearest $100

 

Will round declared value to the nearest $100 dollar value. Will only round if an actual declared value meets or exceeds

the Carriage

Value Threshold (if the threshold is

set).

Bill duty/tax to

 

Select the option to configure who pays duty/tax for international shipments

Always bill sender for SurePost and Mail Innovations

 

Overrides third-party billing configuration for these services

Allow UPS

SurePost

 insurance (used in Ref2)

 

Check this option to use 

SurePost

insurance

Disable Third Party address change

 

Use 

when the 

third-party account is based in a different country

Reference Map

 

Select from any 

Sellercloud

order field to display on the label as the UPS reference field

.

A packing slip or invoice should be printed with the shipping label to indicate what needs to be packed 

in the

order. The reference boxes are good indicators, but they are small, too restrictive, and can't completely replace a packing list.

 

Populate OverStock Partner ID when Using 3rd Party Shipping

 

Prints 

OverStock Partner ID in the UPS reference field

Populate Wayfair Partner ID when Using 3rd Party Shipping

 

Prints Wayfair Partner ID in the UPS reference field

Populate Home Depot Partner ID when Using 3rd Party Shipping

 

Prints Home Depot Partner ID in the UPS reference field

SurePost reference

 

Places order reference on the Attention line in the Return Address

 

Mail innovations Reference Map

 

Select from any Sellercloud order field to display on the label as the Mail Innovations reference

fields

Allow Shipping for Mail Innovations without weight, (Default to 1oz)

 

Because UPS will weigh the package regardless, check this option to allow the label to

print without checking weights

Default Package type mapping for Mail Innovations Expedited

 

Default package type for UPS Mail Innovations

Do NOT populate package dimensions for Mail innovation orders

 

Because UPS will measure the package regardless, check this option to allow the label

to print without checking dimensions

SurePost Tracking

 

Select the option to update the order with UPS or USPS tracking when shipping with

SurePost

.

 

Mail Innovations Tracking

 

Select the option to update orders with UPS or USPS tracking when shipping with Mail innovations.

 

Do not print control log

 

For orders containing a high-value item, a report document can be included for the UPS driver to sign, used when submitting a claim.

 

Populate P

O

 on International Forms with Source Order ID

 

Populate Overstock PartnerID with Source Order ID.

 

Add International Forms comments

 

A comment should be 1 – 150 characters
---