The Amazon Listing Audit (Inventory > Amazon Listing Audit) helps ensure that your product's Amazon
Title, located on the Amazon Properties page, matches the Listing Title as listed on Amazon.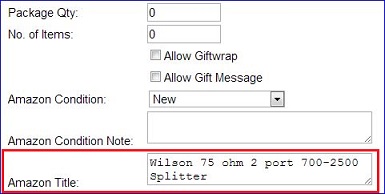 This is a valuable feature because Amazon operates with a Single
Product Detail Page with multiple sellers on each page. To ensure your product matches the listing, the Amazon Listing Audit will list products whose Amazon Title on your Amazon Properties page does not match the listing title on Amazon.

The Amazon Listing Audit builds on the Amazon Active Listings report. The Amazon Active Listings report displays all active listings of the
ASINs in your Seller Central account. It reports on several properties including the product name, as listed on Amazon, quantity, and price. Generally, it is only used during the initial setup of a SellerCloud account; to download Amazon listings in the customer's Seller Central Account. The Amazon Listing Audit compares the Amazon Title in the Active Listing Report to the Amazon Title in
SellerCloud. Products that show discrepancies in the titles are displayed for your review.
To change the Amazon Title to the title in the Active Listing report, select the item and click Dismiss Selected on the Action Menu.