Overview
In this article, you will learn how to use the various pages in Sellercloud that allow you to search and find specific information. Knowing how to best use your available options will improve your ability to find exactly what you seek quickly and effortlessly.
Check out this short video tutorial on customizing searches and search results!
---
Filter Searches
Using filters in a report can significantly enhance the accuracy, relevance, quality, and value of the information presented. By focusing on relevant data and eliminating distractions, filters can help improve the organization, and performance of reports, making them more useful and effective.
Filters offer multiple-choice selection lists or allow you to enter specific values. Your filter choices build on each other. Each subsequent choice narrows the scope of your search results further and affects what the page displays. 
To filter a search:
Navigate to a search page.

Click the

Default filters

to set them up.

For more options, click

Add filter

next to

Custom filters

, and select a filter from the list.

After you click Search, each filter you apply gets highlighted in orange or green. If a filter is gray or not displayed at all, it's not active.

---
Sort Search Results
Sorting search results by changing the "Sort by" setting or rearranging data columns improves the usefulness of the information. By organizing and prioritizing data, sorting can provide greater clarity, relevance, and insight into the information, making it easier to understand and analyze.
Change the Sorting Order
Sorting data differently can provide different perspectives and insights into the information. For example, sorting by date can reveal trends and patterns over time, while sorting by value can help you identify the most significant data points.

You can sort the data based on a specific column using the Sort by drop-down menu.
Rearrange Columns
By sorting the data according to a specific criterion, you can prioritize the most relevant information for your needs.
You can add, remove, and even rearrange data columns. When viewing a search page, click the three dots icon on the top right and select Customize Columns.
Now you can:
Reorder columns by dragging them up or down in the list;

Hide columns by clicking the Trash icons;

Add columns by clicking Add column.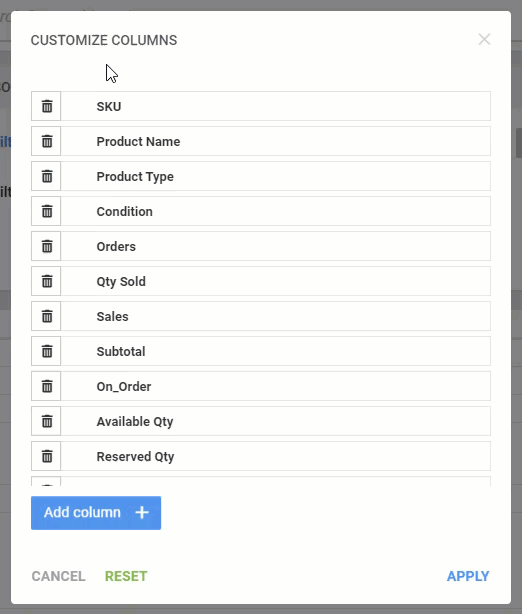 ---