Check out this short tour of Memaila!
---
Memaila lets individuals and businesses organize a team account for an email address of their choice, so that each member of the team can receive emails, and send replies, with that team email address, but from their own personal email Inbox.
The Memaila platform offers numerous management and filtering options to ease the distribution of messages to the group of team members.
You also have options to leave notes, and easily follow-up with other team members from the email chain itself, while working on an email thread.
The Memaila setup workflow comprises 2 main steps:
---
Signing up
Sign up for a Memaila account.

Enter your Sellercloud team name, your company name in your Sellercloud account, and your name.

Set up your company address.

Enter payment information.

Enter your login credentials. Note: Your password must have 8+ characters, one lowercase and one uppercase letter, a special character, and a number. Click Finish.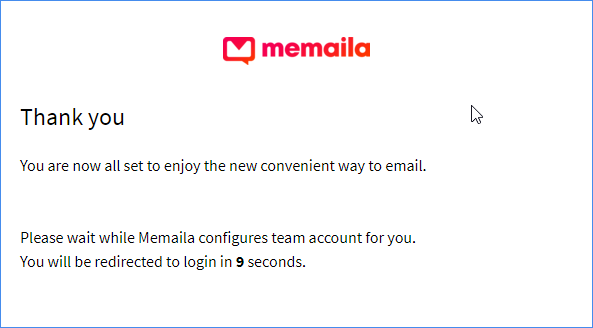 Memaila will configure the team account for you and automatically open this sign-in page: Log in with your team name and user credentials.

You will be prompted to add a team email, as shown below; click Add.Note:If you close this message now instead of adding the team email, you can complete this setup later. If so, see Completing setup when ready.
---
Completing setup
To complete your account setup:
Log into Memaila.
Add the team email address that you want to get messages from (if you did not already add it during initial setup). For example, sales@yourcompany.com.
The Email tab shown above shows the team email address. More fields now appear below the Email field; these are the keys for Memaila to connect to your email:
Email Host – Choose the host from the dropdown. Note: If you choose "Other," you must manually populate the IMAP and SMTP Host fields below.
IMAP Host and IMAP Port
SMTP Host and SMTP Port
Use SSL – Checked by default
Below those fields, provide the following:
Mailbox Folder – Enter this if you want to filter only one Inbox in your email account to feed Memaila with emails.
Send From if available
Memaila Reference – This field auto-populates as your team email without the ampersand (the @ sign). For example, sales.yourcompany.com. The Memaila reference name is used to forward the emails from your team mailbox to your forwarding email address. Note: If this email already exists in the system, you may have to enter a different name.
When done, click Test Connection to cross-check the input information and confirm that Memaila has access to your email address.
Click the Forwarding tab and add any email addresses to which you want messages from the team email address sent. For example, you@yourcompany.com, employee@yourcompany.com, etc.
---
Memaila settings
This page holds all of Memaila's functional settings organized by column:
Team Email column – Contains the team email address that you configured during signup or setup.
Forwarding column – Any forwarding emails added during initial setup can be changed anytime. There are also several filter options here.
Integration column – This contains the communication link to your Sellercloud account.

If you set integration to Enable, you can select Sellercloud from the Integration drop-down. (Amazon is also provided as an option), and then enter your Sellercloud team name and login credentials. This gives Memaila access to your Sellercloud account, so we can check every incoming message (from your team email), and, if Memaila finds this email address in your Sellercloud account, we will display any order and customer-related information (only most recent) under the original email.
---
Memaila filters
Several filter options are available under the Settings' Forwarding column.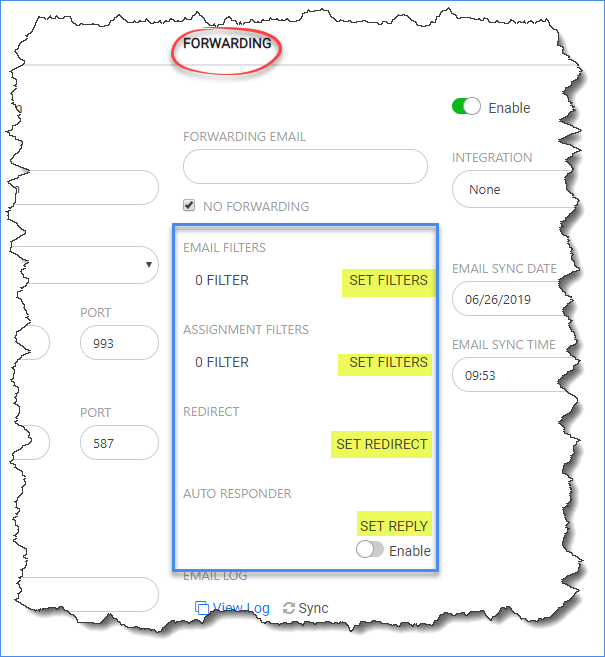 Email Filters – Click Set Filters to add logic for emails to be forwarded (or excluded from) the feed to a particular teambox member.
Assignment Filters – Click Set Filters to assign/unassign emails to teambox members.
Redirect – Click Set Redirect to manually redirect messages to a particular email.
---
Memaila tips
When your team is all set up, you can use Memaila right away!
Here's a valuable tip for starters: