Overview
Compatible with a wide range of scale models, Sellercloud's 4D Scale Micro helps you instantly measure the weight of packages and transmit the information to the cloud where it can be used in various applications. With our powerful real-time data transfer you can capture measurements in less than a second and with the 4D Scale Micro you can easily add the weight of a new product when you receive a PO, as well as calculate shipping rates more efficiently by quickly loading the box weight. This will seamlessly speed up both your receiving and fulfillment workflows.
The 4D Scale Micro is easy to install and requires no special skills or tools. In this article, you will find all the steps you need to take to properly install and configure your 4D Scale Micro from start to finish. You will learn how to install the hardware, connect to the scale and configure the software settings.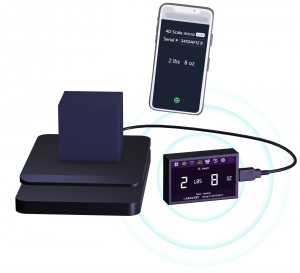 ---
4D Scale Hardware setup and Compatibility
Included Components:
4D Scale Micro
Touch screen stylus
Power supply

Over a standard USB Type C cable
5VDC @ 2A
Power consumption — < 10W (No scale attached)
Internet connection:
Hardware features:
Works with HID-compliant USB scales*
3.5" resistive touchscreen display
Powers a USB scale over USB (Most scales support power over USB, with some exceptions where scales have their own power cord)
*Ensure that the port on your scale is not power delivery only!
The 4D Scale Micro is compatible with most USB HID scales. Those include scales such as the DYMO M/S series and more. Click on the dropdown below for a full list.
Mettler Toledo BC60
Mettler Toledo BC150
Mettler Toledo PS60
Dymo 40149
Dymo S series
Dymo M series
ONYX 5lb
ONYX 70lb
Connect the 4D Scale Micro to your scale
To connect the 4D Scale Micro to your scale, follow the steps below:
Connect the 4D Scale Micro to your HID-compliant USB scale with the USB Type-B cable.
Connect the 4D Scale Micro to a power supply (outlet) via the USB Type-C cable/power adapter.
Wait for the 4D Scale Micro to boot up.
Connect the 4D Scale Micro to the Internet (either through a Wi-Fi network or the Ethernet port).
---
Navigate the 4D Scale mobile app
The 4D Scale app has a web and mobile version. The web version is accessible at app.4dscale.com and also available as a Chrome extension, allowing you to transfer readings from the 4D Scale Micro to any website. The mobile version can be downloaded from the Google Play store for Android and App Store for Apple/iOS. Make sure that your 4D Scale Micro is connected to the internet, either through a Wi-Fi network or the Ethernet port.
Log in
4D Scale is all about improving your shipping process and simplifying your team's workflow. Simply log in with an existing account or create a new one to access the app. You can log in with your Sellercloud account or a standalone 4D Scale account.
Navigate to the 4D Scale Homepage or open the application on your mobile device. Click Log in with Sellercloud for Sellercloud accounts and Log in with email for standalone accounts.
Enter your Team name, Username and Password.
Click Sign in.
To create a new
standalone
account, either navigate to the 4D Scale
Homepage
or open the application on your mobile device and click
Register now
.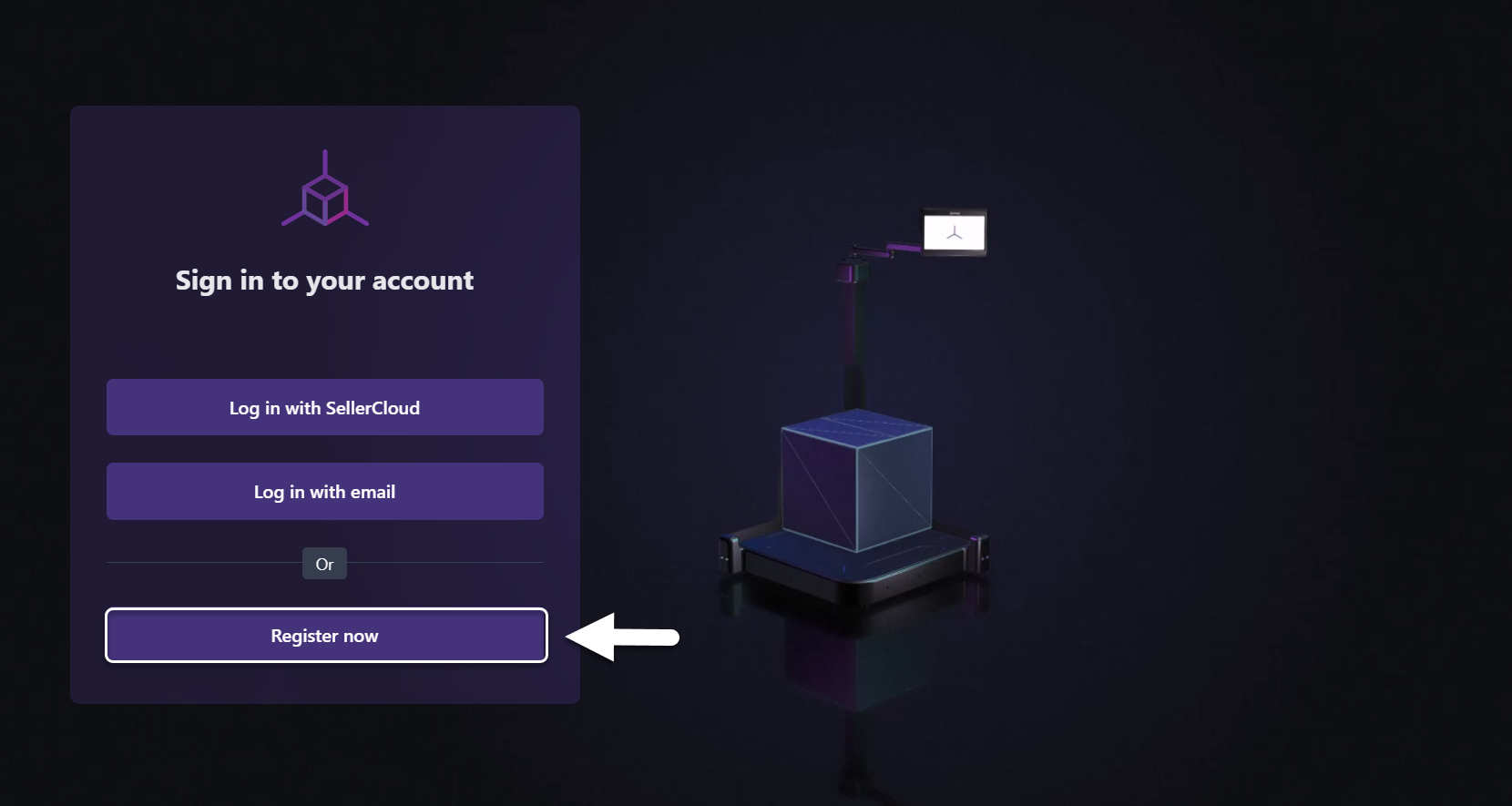 Configure the 4D Scale app
Now that you've successfully logged in, follow the steps below to complete the configuration:
Make sure that your 4D Scale Micro is connected to the internet, either through a Wi-Fi network or the Ethernet port. The Wi-Fi indicator should be green and your scale powered on.
Choose one of the two options: Detect automatically or Connect manually instead.

If the scale is not detected automatically, it can be added manually instead by entering its serial number. Once the 4D Scale Micro is successfully connected to your account and the company's team name, it cannot be assigned to any other account unless it is unlinked first.

Get a test reading by placing an object on the scale to ensure that the weight measurement is displayed correctly on the 4D Scale Micro screen.
You will receive real-time warnings if your scale is disconnected or asleep/powered off.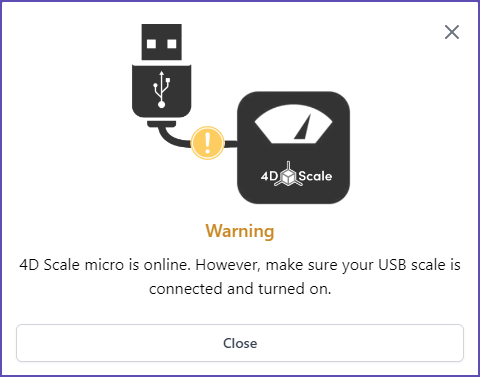 ---
Understand the 4D Scale Micro Interface
In this section, you will find detailed information on the interface panels and how to use them.
Navigate the Home Screen
Refer to the screenshot and definitions below for a detailed description of each option.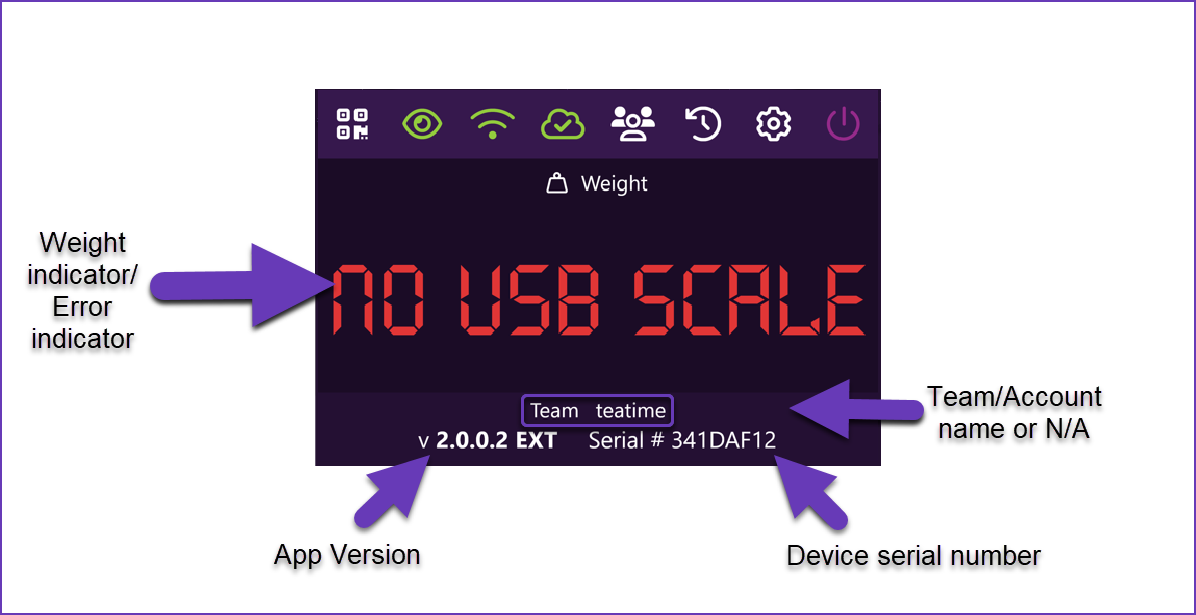 SETTING
DESCRIPTION
QR Code
Use this QR code to open your scale in the mobile application.
Make Private/Public
You can choose whether your 4D Scale Micro is visible by other users. When set to Public, your scale readings would be accessible by others. When set to Private, views of your scale readings will be restricted.
Connectivity
Wi-Fi indicator. A red color icon indicates that you are currently not connected to any network.
Real-time updates
Indicates real-time connection to the cloud. A yellow color icon indicates that there may be an issue with the real-time updates and/or the Wi-Fi connection.
Subscribers
Displays all live viewers with access to the scale readings from the mobile (Android

/

iOS

)

or

web

version of the app.

Log
The Log provides you with detailed information about the actions and events recorded by the 4D Scale Micro.
Settings
Located at the top right of the screen, next to the Power button, this option allows you to change the units of measurement. The value defined here will be used as a standard for measuring. Available options are Pounds, Ounces, Kilograms and Grams.
Power off
Powers the application off. Note: This does not power the 4D Scale Micro off.
---
Configure Shipbridge
When viewing weight readings in Shipbridge, you can pull in the information directly from the configured scale. To use this functionality in Shipbridge:
Navigate to 

Menu > Options > Scale

.

Locate the Activate checkbox and enable it.
Choose your desired scale from the list and Connect to device.
Calibrate the scale and get a test reading using the options displayed here.
Once the above steps are complete, your scale should be visible in the Shipbridge grid.

Note: If you are using the Scan and Ship workflow, you must also enable the Auto-update with measurements from 4D scale setting under Menu > Options > Scale.

---
Configure Skustack
Connect your 4D Scale to Skustack and seamlessly pull in scale readings for any product that is entering or leaving your warehouse.
Choose your default scale
As there can be multiple scales linked to your account, you will need to select the one Skustack should use.
Navigate to Settings > 4D Scale. A list of available scales linked to your team's account will be displayed.
Choose the default scale for Skustack to use.

You can select a default scale that is currently offline, but you will need to make sure it is active before it can be used.
Pull scale readings
When viewing weight readings in Skustack, you can pull in the information directly from the default scale by simply tapping the 4D Scale icon on the activity or dialog.
This option is available in the following places:
On the product info dimensions activity.

If your scale is set to use the metric system and you'd like to view the measurements that way in Skustack as well, you can simply 
change the UoM
 on your Skustack device.
---