Follow this configuration workflow to integrate your Amazon account with Sellercloud:
Set up the API to connect to your Amazon account.
Access Amazon's product catalog using MWS.
Import Amazon listings (skip if your Sellercloud product catalog already has products in Amazon listings).
Set the Amazon shipping method mapping.
Enable automatic update and download controls.
As required by Amazon: Refresh your Sellercloud-Amazon account connection.
---
Setting up the API to connect to your Amazon account
This enables you to post products, update inventory and price, download orders, update tracking, and download reports, including settlements.
In Seller Central, click Settings > User Permissions.
Click Authorize a Developer.
On the next page, choose "I want to use an application to access my Amazon seller account with MWS."
Set Developer's Name as Sellercloud:
Note: If there is no developer key for the marketplace you are trying to integrate, you can integrate the account without a developer key, below.

For Amazon US or unified North America, set Developer Account Number to 1184-7443-5159
For Amazon EU, set Developer Account Number to 6014-8266-1244
For Amazon Japan, set Developer Account Number to 9863-2796-3460
For Amazon Australia, set the Developer Account Number to 1616-1040-8903

When you click Next, you will be asked to accept the MWS license agreement. Read the agreement and click Next to continue. A page showing credentials appears: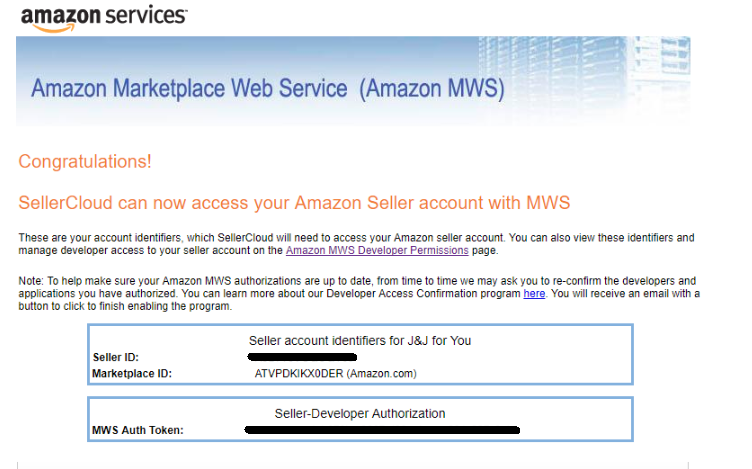 In Sellercloud, click Settings > Company > Toolbox > Amazon > General Settings.
Select Enable Amazon MWS Auth Token.

If you do not see this setting, add "&showadvanced=1" to the end of the page URL (without the quotation marks).

Enter the credentials from Amazon into Sellercloud:

Amazon Seller ID into Merchant ID.
Marketplace ID for the correct marketplace from Amazon into Marketplace ID.
MWS Auth Token from Amazon into MWS Authentication Token.

Click Save.
---
Accessing Amazon's product catalog using MWS
This enables you to access product information from Amazon's catalog, apply that information to products, and create new products from Amazon listings.
The previous way of setting up the API for access to Amazon's product catalog may still be an option. This method was used before certain security changes; therefore, it may not be vailable.
Show me the older procedure
.
MWS is recommended if you are shipping with Amazon. This does have some restrictions; namely, you get one image (not all) and no descriptions or bullet points.
On Sellercloud's Amazon Settings page, check Use MWS to Get limited info from Amazon > Save Settings.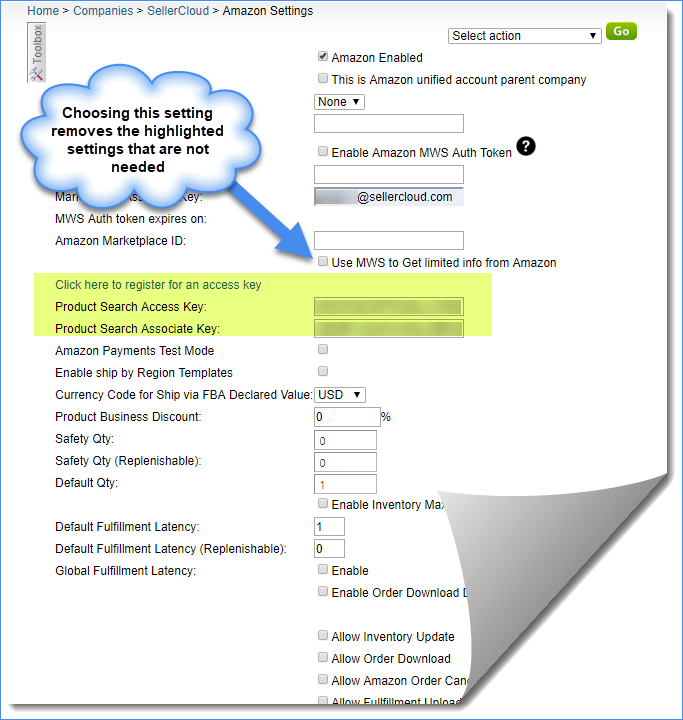 ---
Importing Amazon listings
After the API connection has been established, Sellercloud will start to periodically pull your active listings report (you can also manually request the report). After the report is pulled, your existing listings can be created in Sellercloud with all their product information. This is often the first step to create the catalog because many merchants have all or most of their products listed on Amazon. Read how to import listings here.
If your Sellercloud product catalog already has the products in the Amazon listings, this step is not necessary. However, sometimes the same product may have a different SKU identifier in Amazon than Sellercloud. It is recommended to discuss best practices for importing such SKUs with your Sellercloud account manager.
---
Setting up Amazon shipping method mapping
Amazon has several different generic shipping options for customers to choose from. You may want to map those options to the shipping methods and carriers you use. For example, if the customer selects 'Standard,' the mapping can have the order marked as 'UPS Ground.' Learn more about Amazon shipping method mapping.
---
Enabling automatic upload and download controls
The Amazon Settings page has controls for automation:
Inventory control should be enabled when you are certain your inventory is accurate and your product has been enabled for Amazon.
Enable order download and tracking upload when you are ready to ship Amazon orders.
---
Integrating Amazon without a developer key
Go to https://developer.amazonservices.com/ and click Sign Up or Manage MWS.
Note: For Amazon international sites, a separate set of MWS credentials is needed. Read more here.
On the following page, you will see your Merchant ID. Click View Credentials to get your MWS credentials.

Go here to get the US Marketplace ID.
In Sellercloud, click Company Settings > Toolbox > Amazon Settings > General Settings.
Place your credentials into the corresponding fields:

Enter SellerID into the Merchant ID field.
Enter the "Secret Key" in the Marketplace Associate Key field.
---
Reauthorizing your Amazon account connection
Periodically, Amazon will require you to reconfirm that Sellercloud is authorized to connect to your Amazon account.
When this is required, they will notify you in an email that contains a subject such as "ACTION REQUIRED – Your Software Application Authorization Is About to Expire."
This email will include the following instructions:
Please either renew or revoke this access to your account by using the Amazon MWS Developer Permissions section of the User Permissions page in Seller Central. You can access this page at any time by signing into Seller Central and selecting User Permissions in the Settings menu.
There are two ways to start the reauthorization:
From SellerCloud's Amazon Settings page
From Seller Central
Reauthorizing via Sellercloud
Open your company's Amazon Settings page.
Log into Seller Central as an Admin.
Go to Step #2 in the Reauthorizing from Seller Central section, below, and follow the remaining steps.
Reauthorizing from Seller Central
Log into Seller Central as an Admin.
Click the Visit Manage Your Apps button under Settings > User Permissions.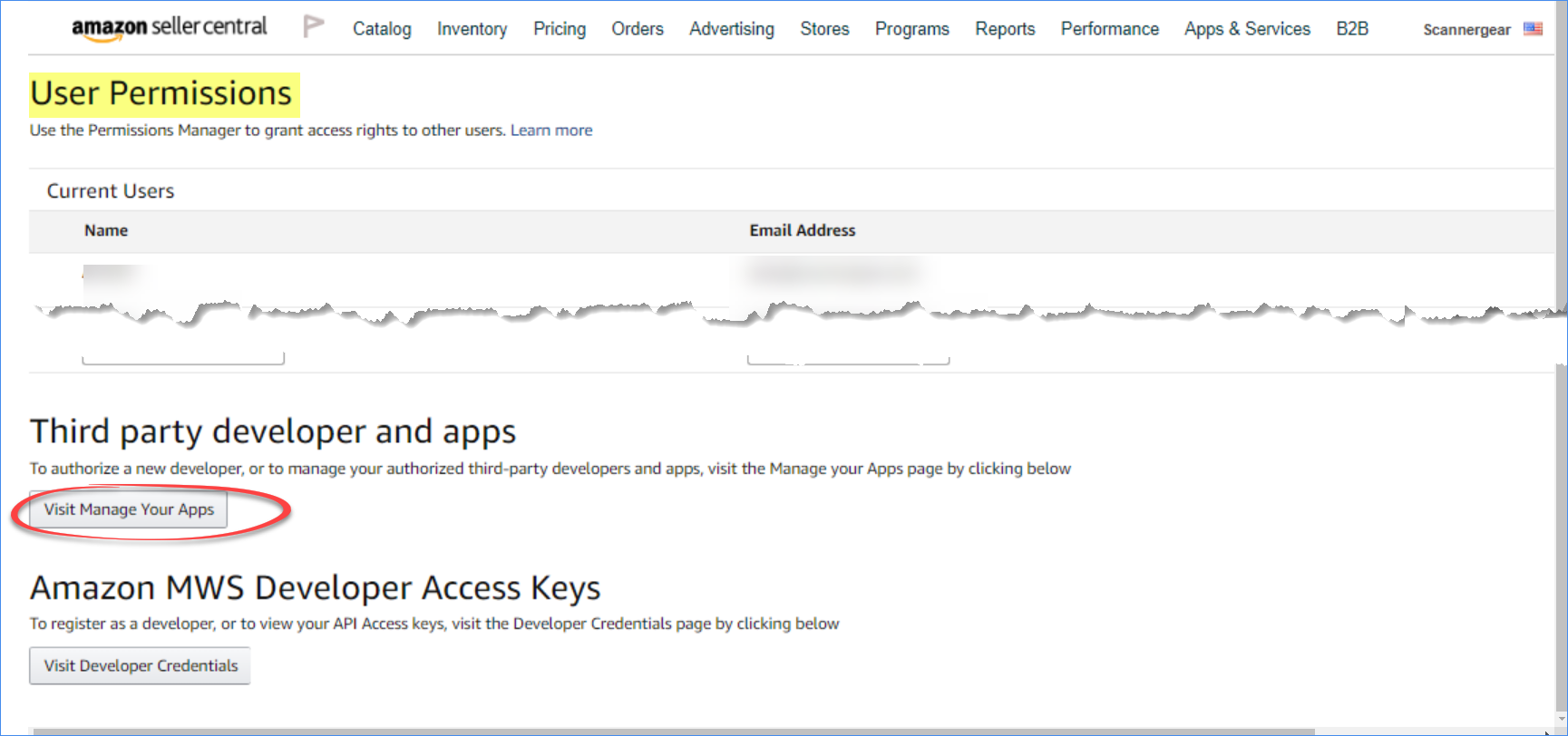 On the Manage your apps page, find the Sellercloud app and click its action button Renew.
You must renew this connection before the Expiration Date listed to avoid an interruption in your connection with Sellercloud. Failure to do this will cause Sellercloud to be unable to connect to your account for any reason.