Walmart Marketplace requires different attributes on the products, depending on their category.
Update a single product's attributes
You can manually update Walmart Marketplace attributes from the product's Walmart Marketplace properties (red X appears if required attributes are missing):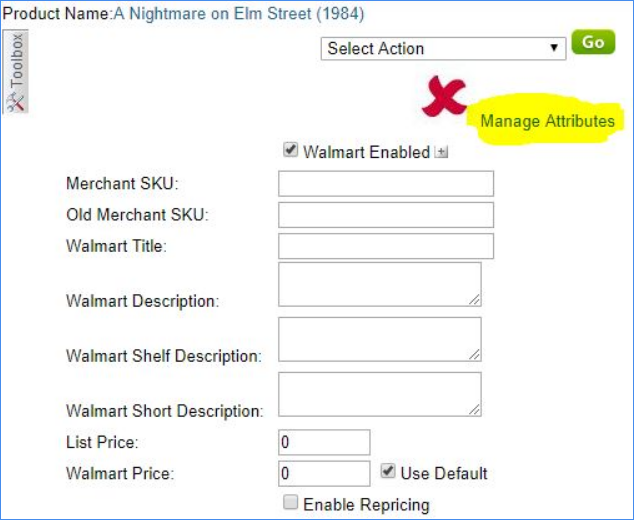 Click the Manage Attributes link.
If the product has no Walmart Parent Category and Child Category set, you must select these first; read more about Walmart categories. The list of attributes will now appear. Not all are required, and they vary based on the category.
Bulk-import attributes
You can bulk-update products with Walmart attributes using a file import:
Go to Inventory > Import Product Info > Import Walmart Marketplace Attributes.
Click Download Template. See the description of the template headers, below.
Populate the template with Category Name, Attribute Name, and Value (expected values are alphanumeric). Category is required because attributes are category-specific; read more about Walmart categories.
After saving the template, click Choose File > Upload Attributes to import.
Walmart Attributes template headers
The downloaded template's headers are defined as follows:
Product ID – SKU of the product as shown in SellerCloud
WalmartAPI ParentCategory – Walmart parent category
Walmart API ChildCategory – Walmart child category
Attribute Name – Name of the attribute (example : color, size, etc)
Attribute Value – Value corresponding to the AttributeName (example: red,  Medium, etc.)
Parent Node – Category node that the attribute comes from. (ParentField on the Manage Attributes page.)
If categories are already selected on products, use the Manage Inventory page's Export Walmart Marketplace Attributes option from the Action Menu to obtain a file with all the correct information, so all you have to do is complete the AttributeName column.