Overview
You can export your Shipbridge settings as an XML file and import them back into Shipbridge.
Some of the reasons why this feature is useful:
To restore your settings in case they are mistakenly changed
A convenient way of configuring multiple Shipbridges with a simple file import
For troubleshooting by SellerCloud Support. Learn about collecting files for detailed debugging.
---
Export Settings
To export your Shipbridge settings as an XML file: 
Go to Menu > Backup/Restore > Export Settings to File.
Save the file to a location. Now you have a restore point.
---
Restore Settings From Server
You can restore previous versions of your Shipbridge settings by directly downloading them from the server. Go to Menu > Backup/Restore > Restore Settings from server.. This will open a dialog where you will see all the available previous versions of your Settings for that specific Shipbridge app.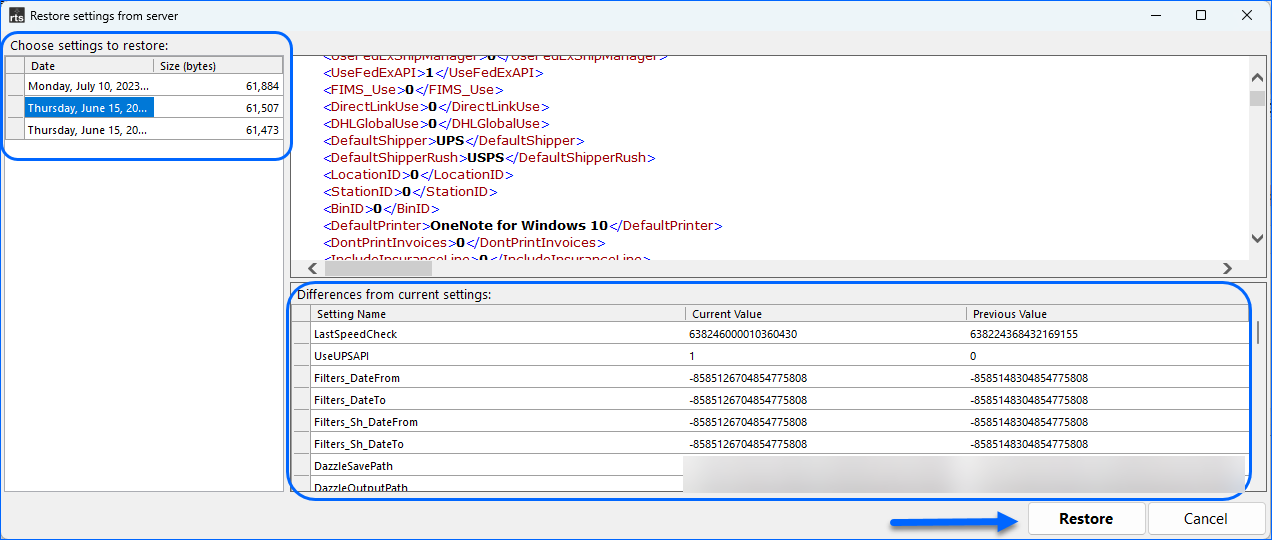 On the left are the available versions. On the top of the right side is the XML of the selected settings. Below, you will see a breakdown of the differences between the version you have clicked on the left and the current settings on your Shipbridge. When you have selected the desired backup, click Restore. This will automatically install the Backup file, and Shipbridge will restart.
---
Import Settings
 To import an XML file with settings back to Shipbridge: 
Send the file to a computer on which you are configuring a separate Shipbridge.
Go to Menu > Backup/Restore > Settings from File.
Choose the Settings file and import it.
---