Overview
FBA Hazardous Material Policy refers to the rules and guidelines that merchants must adhere to when selling FBA products classified by the US Department of Transportation as Hazmat (hazardous materials). FBA sellers are required to identify and regulate such products that pose a potential risk to health, safety, property, or the environment,  in order to sell them safely with Fulfilled By Amazon services.
---
Hazmat Products 
Hazmat products are usually goods made with toxic, or flammable parts, which could be dangerous to store and transport, such as lithium battery-operated products, items with powerful magnets, aerosols and compressed gasses, etc. There are Hazmat Product Classes that are Permitted for FBA sale with Amazon's approval, and there are products Prohibited for FBA sale. 
Permitted FBA Product Classes
Under specific conditions, Amazon allows FBA merchants to sell the following hazardous product classes: 
Flammable solids, liquids, and gasses.

Non-flammable and non-toxic gasses.

Oxidizers and organic peroxides.

Toxic and corrosive substances.

Miscellaneous dangerous substances, such as lithium batteries and magnetized materials.
Prohibited FBA Product Classes
The following material classes are prohibited for FBA sales:
Explosive substances and toxic gasses.

Substances that are dangerous when wet, or liable to spontaneous combustion.

Infectious substances and radioactive materials.
Products that contain these materials could be harmful when stored or used improperly. 
---
Mark Product as Hazmat
To identify a product as Hazmat in Sellercloud:
Navigate to

Catalog

>

Manage Catalog

> open the desired product.

From the product's

Toolbox

, select

Amazon

.

Click

Edit

. 

In the product's

Listing Details

panel, check the box

Is Hazmat

.

Save

your changes.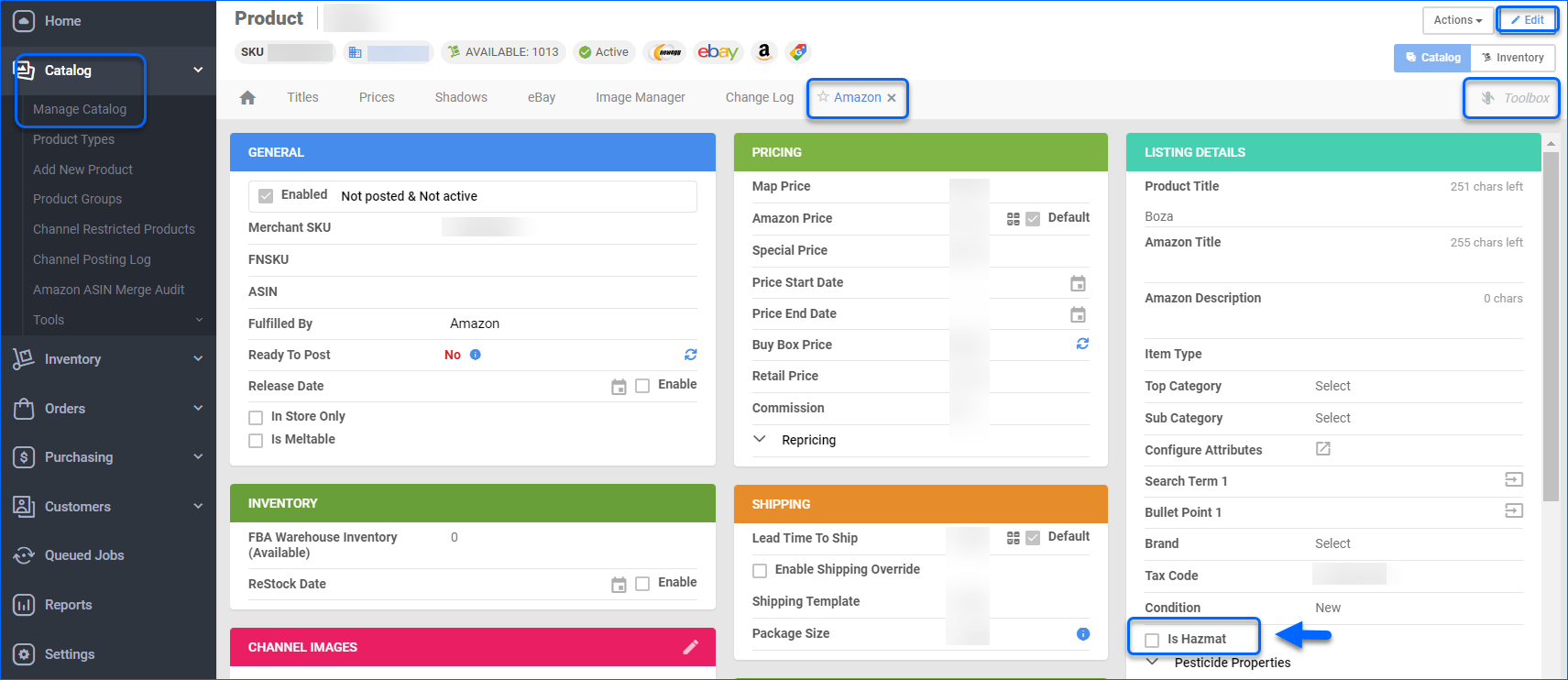 ---