Shipment box defaults can be set in Sellercloud from Manage Inventory > FBA Inbound Shipment > Shipment Box Defaults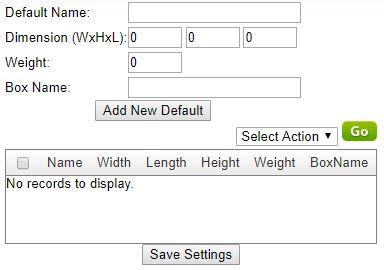 Set the template name, dimensions, weight and box name. Once created the default values can be adjusted at any time. You can also delete the template from the Action Menu.
For items that need Prep Guidance: (These are for items that have special packaging requirements, that if not met will cause Amazon to reject the shipment. If you are unsure if your items require prep it's recommended to follow through with the prep steps.)
Enable client setting Enable FBA Prep Guidance.
Select Get Prepare Instructions from the action menu.
The prep guidance and instructions will display next to the products in the grid. See image below.
Currently, MWS does not support Item Prep Services, which is an Amazon service where, for a fee per item, Amazon will prep the item for you when the items are received at FBA. When creating a shipping plan through Seller Central, you can select on each product who should prep the item, Merchant or Amazon. If an item requiring prep is received at FBA unprepared and you did not inform Amazon to prep the item, you will be subject to Unplanned Prep Fees. Currently, there is no API call to inform Amazon to prep the item. If you want Amazon to do the item prep, you would need to create the shipping plan in Seller Central and use the interface there to select Amazon as the prepper. Then, you would
import the shipment
 into SellerCloud for the actual shipping.