What is a channel customer?
As a seller, you have 2 customers:
Customers (consumers) – They buy your products from your integrated channels (marketplaces). These would include any wholesale customers.
Integrated channels – They sell your products to those consumers. In SellerCloud, each of these channels is known as a channel customer.
Typically, your channel customer(s) will generate a recurring invoice that consolidates all orders that shipped in an established date range (weekly, bi-weekly, etc.), or by settlement report (e.g., Amazon). This invoice details all the monies they owe you for those orders' sales, minus their channel's fees.
To ensure that their information is accurate, Sellercloud's Channel Invoice feature lets you create a channel invoice. This invoice lets you easily reconcile their invoice against your invoice's order and payment information from SellerCloud.
You can quickly cross-reference each order in Sellercloud directly from the channel invoice to locate and resolve any discrepancies.
Certain channels will not auto-generate channel invoices, requiring you to invoice them to release the monies owed. Again, you can use the Channel Invoice feature to create an invoice for orders that shipped in a set date range, and then send them invoice for billing purposes.
Regardless of how you obtain payment, after you receive and reconcile the payment, this same feature lets you record that payment and apply payment(s) to that invoice.
If you chose Channel Invoiced in the Order Status Display settings, orders will show one of these statuses on their Order Status panel:
Invoiced – All order items are on the channel invoice; or
Partially Invoiced – Not all order items are on the channel invoice; or
Not Invoiced – Order has not been channel-invoiced
---
Channel Invoice Workflow
The chart below shows a typical workflow for the Channel Invoice feature. The exact workflow for your channel customers may vary.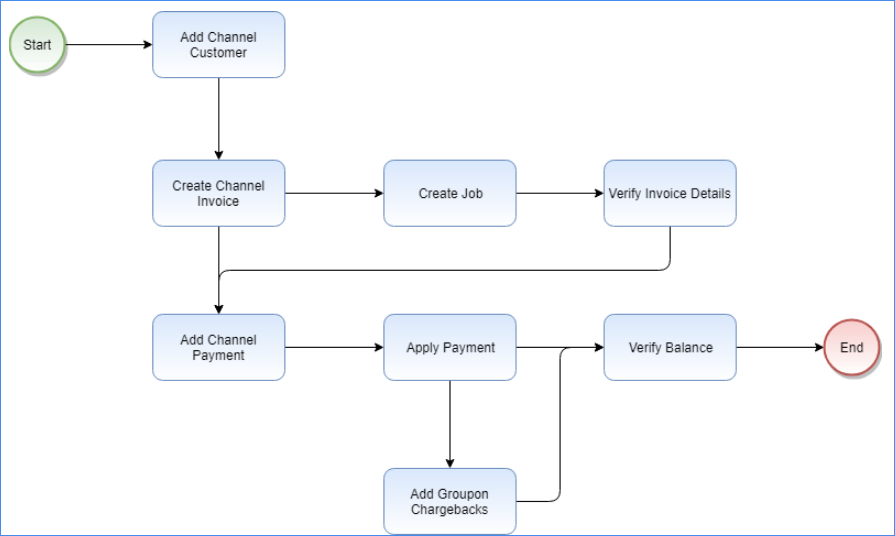 ---