Shopify
 is an all-in-one e-commerce platform that allows to easily set up an online store and manage product listings.
Products can be posted from the Website properties page individually by going to
Catalog
>
Manage Catalog
> Find your product >
Toolbox
>
Website Properties
>
Action Menu
>
Post to Website

You can also post products in bulk from
Catalog
>
Manage Catalog
> Select your products >
Launch on Channel
>
Website
You can find more information on Launch on Channel in
this article
.
The only required attribute to post to Shopify is the Title, which is the Sellercloud product name.
If listing IDs on a product are incorrect or outdated, the only way to generate new listings on Shopify is to first delete the listing IDs in Sellercloud, then post the product to Shopify.
Sellercloud will send all product information such as images, descriptions, etc. Read about Shopify metadata.

The product must be "Website Enabled" on the Website properties page for the available inventory to upload; otherwise, an inventory of zero will upload for that product.

With variations, the parent and all variation children must be "Website Enabled."  Use the Bulk-Update function with the column header WebEnabled and values of True or False.
Posting variations
You can post variations from Sellercloud to Shopify. Set up the variation in Sellercloud and post the Matrix Parent.
Shopify only allows three options per variant. For example, a product variation can have a color, size, and material; it will not support a fourth value.
---
---
Shopify product visibility
You can control item visibility on different Shopify channels from Sellercloud. On the Website Properties page, select Online Store from the Visibility field to make it visible on the webstore. The other options are Point of Sale and Buy button.  You can also select visibility for both Online Store and Point of Sale.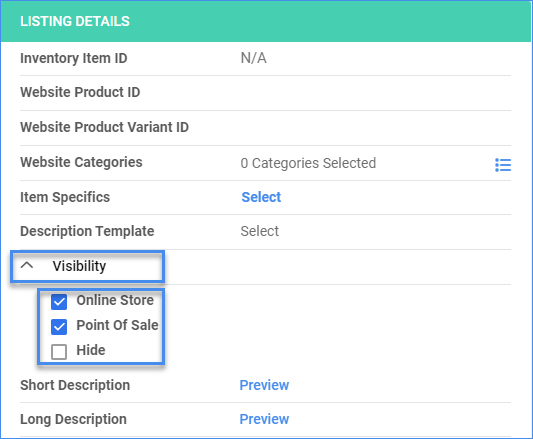 ---
Shopify n-matrix (variations) images
Shopify supports variations with up to 3 dimensions.
One-dimension matrix – Set a Swatch image for each of the children from the Image Manager.
Two or more dimensions – For example, Color and Size:

Go to the parent > Toolbox > Variations > Primary Dimension Images
You need the images to be attached to the Color dimension. Select Edit and Change Primary Dimension.
Set an image per each color variation

.