Integrating Wish Express
Wish Express Warehouse gives you the opportunity to update your products with a deadline for delivery.
Go to Settings

>

Company Settings.
Select your Company.
Click Toolbox

>

Wish

>

General Settings.
Check Wish Express Enabled > Select Wish Express Countries.
Save Settings.
---
Updating Wish Express inventory
Sellercloud requires the name of your Wish Express Warehouse to do inventory updates. This is found in your Wish Merchant account.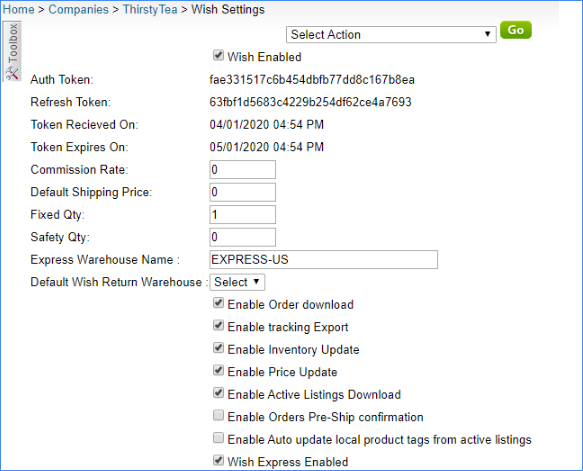 ---
Creating a shipping template
Go to Settings > Company Settings > Company.
Click Toolbox > Wish > Shipping Templates.
Select Add New Template.
---
Configuring products
There are two ways to set up your saved shipping template on Wish products.
From Wish Properties page
Select your Product > Toolbox > Wish Properties.
Save.
Through a bulk update
You can also configure multiple products for Wish Express through a bulk update.
You need three column headers for this import:
ProductID— This column is needed for any bulk update to identify which products in the system to configure
WishExpressEnabled— This value must be set to True
Note: Please contact Sellercloud Support to enable the columns for your server before Bulk Updating your products.
---