Please read first! This topic explains the use of gift cards in SellerCloud's original interface.
Gift cards are not currently supported in SellerCloud's new Delta interface.
---
Gift cards can be assigned to customers and used as a payment in orders.
Using gift cards requires selecting Enable Order Gift Certificates/Cards in the Client Settings.
Add Gift Card to a Customer
Go to the Customers tab and search for the one in question.
After selecting the customer go to Toolbox > GiftCards/Coupons.
Enter a coupon code and amount. The amount can be added in currency or percentage.
Select if the coupon is one time use only and Add it.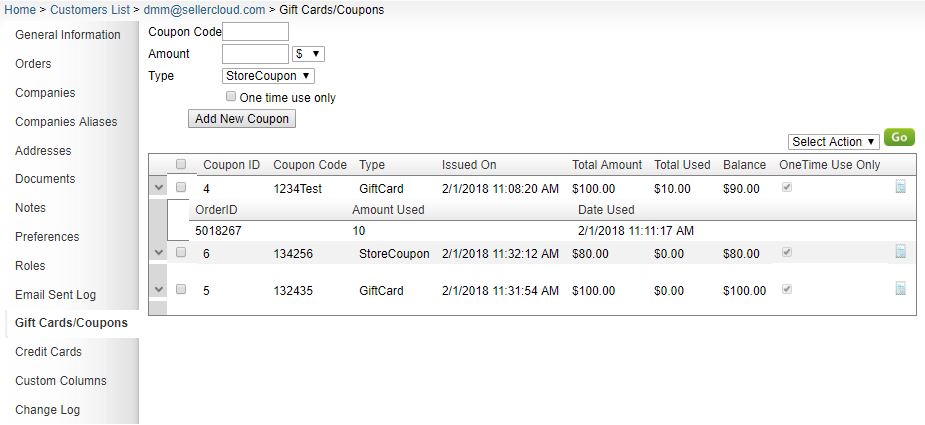 Importing Store Coupons/GiftCards in Bulk
To to the Customers tab > Import Store Coupons/Gift Cards.
Download the template and fill in the information.
Click on Choose File and upload the updated sheet.
Click on Upload GiftCard/Store Coupons.
Using Gift Cards as Payment or Refund on Orders
If the customer has unused GiftCard balance it can be applied as payment on his orders.
Open the order and  select Manage Payment from the Action Menu.
If the client has unused GiftCard balance there will be clickable link on the top of the order info: Pay via Gift Certificate/Card.


Here you can select the GiftCards applied to this client and the Amount to be used.
You can also Refund clients with GiftCards, which they can use later. From the Manage Payment screen click on Refund via Gift/Certificate Card.