The information in this topic is specific for the Alpha interface, not the new Delta interface.
Unless you are a Client Admin, the user permissions for Alpha 
will not automatically transfer
 to Delta.
For details about roles in Delta, please see this
Delta Permissions topic
.
---
You can assign users to roles that allow or restrict specific actions in SellerCloud.
Please read these 2 warnings!
Company settings that may contain credentials for different SellerCloud integrations are only available for users with the Client Admin role.  These users have access to the entire system with no restrictions.
The following Client Settings affect the permissions set by the user roles in the table below:
Hide Costs From Employees – Hides all cost-related information from employees who do not have the Client Admin role
Protect Site Cost – Hides SiteCost from employees and disallows editing by users unless they have the Client Admin role
Roles are configured in Employees > Select Employee > Security> Roles.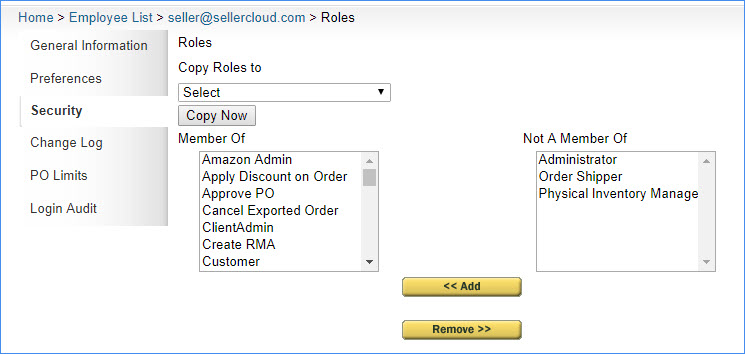 The table below defines each of these roles:
ROLE
DESCRIPTION
Amazon Admin
Lets user check "Amazon Restricted" box on the Amazon Properties page.
Apply Discount on Order
Lets user put discount on a sales order.
Approve PO
Lets user approve POs.
Cancel Exported Order
Lets user cancel orders exported orders. Order Admin does not include this functionality, and this must be added if canceling exported orders is needed.
Client Admin
Inherits all security roles and abilities, assigned or not; the only user that can change Client Settings.
Create RMA
Lets user create RMAs.
Customer
Makes user a customer to appear under the Customer tab.
Dropship Manager
Lets user set DropShip status as Dropship.
eBay Merchant
Not in use.
Edit PO
Lets user edit prices in PO. Users cannot edit POs unless they have this role or are a Client Admin.
Edit Purchaser
Lets user change the purchaser set on an item.
Employee
Lets user access the 'My Account' page.
Inventory Manager
Lets user see full inventory movement.
Login Never Expires
Login expiry is set to 5 years from the time it is set.
Order Admin
Gives user full access to all functions related to orders (ship orders, merge orders, manage RMA, refund, update tracking, create/import, and create picklist).

Note: This role does not allow the user to cancel an order! The role Order Cancel is needed. 

Order Cancel
Lets user cancel orders.
Order Controller
Gives user full access to place orders, refund orders, cancel orders, and change other order statuses for all channels.
Order Controller Local
Gives user full access to place orders, refund orders, cancel orders, and change other order statuses for local store orders.
Order Creator
Lets user create local store orders.
Order Shipper
Hides the 'Sold to' address from the user; the Client Setting Do not show Bill to Address to Order Shipper Role must be enabled.
Order Total display
Lets user view the "grand total" column on the Manage Orders page, if the Client Setting Show Order Total to Order Total display role only is enabled.
Orders Mass Emailer
Lets user send mass emails from the Manage Orders page if enabled to "send email" setting from security settings of user.
People Admin
Gives user full access over employees and their settings.
Physical Inventory Manager
Lets user change physical inventory.
PO Over Receive
Lets user over-receive a PO if the Client Setting Allow to Over Receive PO is enabled.
PO Prices
Lets users edit prices in POs.
Pricing Admin
Lets user edit all prices of product, even if the Client Setting is set to protect site cost, and is the only user other than the the Client Admin who can edit sell below cost.
Pricing Manager
Lets user edit site cost even if the Client Setting protects site cost, cannot edit sell below cost.
Product Admin
Gives user full access over products and their properties.
Product Create Restrict
Restricts non-admin user from creating products individually or in bulk.
Product Kit Creator
Lets user add items to a kit.
Product Shadow Creator
Lets user create shadow relationships or shadow products.
Refund Handler
Lets user issue refunds.
Report Admin
Gives user access to the Reports tab; to be used in conjunction with Report User.
Report Users
Lets user pull reports; to be used in conjunction with Report Admin
Restrict Edit Product Weight
Restricts user from editing the product weight and dimensions.
Restrict FBA Shipments per Buyer
Restricts non-admin user from accessing any FBA shipments containing product(s) for which they are not set as the buyer.
Restrict Inventory Access
Restricts non-admin user from seeing any product where they are not set as the buyer.
Restrict Listing Product
Restricts non-admin user from listing products on any channel.
Restrict Order per Buyer
Restricts non-admin user from accessing orders containing product(s) for which they are not set as the buyer.
Restrict PO per Buyer
Restricts non-admin user from accessing POs containing product(s) they are not set as the buyer.
Restrict Price/Qty Edit
Restricts non-admin user from editing price or inventory on a product in the SellerCloud interface.
Restrict Product Edit
Restricts non-admin user from editing product data in the SellerCloud interface.
RMA Receive
Lets user receive RMAs.
Salesman Cost Edit
Lets user edit salesman cost on a product level (when using Client Setting Allow free edit Salesman Cost instead of Enable Salesman Cost).
Salesman Cost View
Lets user see Salesman Cost at the product level.
Scheduled Tasks
Lets user execute or change scheduled tasks.
Settings Admin
Gives user access to the Settings tab.
Show Adjusted Shipping Price
Shows user-adjusted shipping price if one is set for an order in place of the actual price.
SKUStack Device Manager
Lets user add Skustack devices.
Split SKU Detail
Lets user go into POs from the Split SKU page and see their details.
Split SKU List
Lets user only see the search page of the Split SKU page.
Vendor Manager
Lets user see full list of vendors.
View PO
Lets user search and view POs.
Web Services Access
Lets users make webservice calls. May only be in use for older versions.
WholeSale Customer Handler
Lets user edit wholesale customer credit limits