Overview
​Houzz.com is a marketplace dedicated to products for the home. More than just a place to shop, Houzz presents itself as a source of information, tips, and inspiration for home design and decoration.
---
Post products to Houzz
In order to list a product on Houzz, it must be
Houzz enabled
and
ready to post
.
To get your products ready, certain requirements must be met. This means entering the minimum information required by Houzz for listing a product.
REQUIRED FIELDS
DESCRIPTIONS
Houzz Product ID
Assigned by Houzz
MerchantSKU
Merchant SKU for the product
Product Title
Title used by Houzz
Product Description
Product description for Houzz
Manufacturer
Manufacturer, can be copied from the Product Summary
UPC
Some product categories may not require the UPS. Enable the checkbox in such cases
MPN
Manufacturer part number
Category

Houzz categories have unique ID. Download

this file

to check the related category

Style
Required field, choose an option from the dropdown

P

rice related settings

Similar to other channels. Default values can be used
Key Words (optional)
Limited to 300 characters maximum
Primary Material, Designer/Artist (optional)

Optional fields that can provide more info about the product

Country of Origin
Select from the dropdown
Once your products are enabled and ready, you can post them individually or in bulk.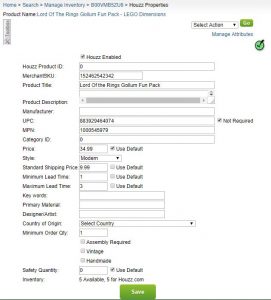 To post them individually, you must:
Access the Houzz Properties page.
Go to Select Action > Post Product.
Click Go.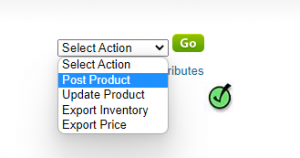 To post them in bulk, you must:
Go to Inventory > Select Products > Select Action.
Select Houzz > Continue. 
You can access the scheduled job using the notification.
---
Update Inventory on Houzz
You can update your inventory on Houzz manually or automatically.
Your products must be Houzz Enabled in order to send the correct inventory quantities automatically.
Manually
The manual Houzz inventory update can be done individually or in bulk.
Individually: Go to Inventory > Open a product > Toolbox >  Houzz Properties > Select Action > Export Inventory.
In bulk: Go to Inventory > Select your products > Select Action > Update Inventory on Channel. In the newly open window, select Houzz > Continue.
Automatically
The automation is controlled by Houzz's General Setting Enable Inventory Upload. When enabled, Sellercloud periodically sends automatic inventory updates. To enable it:
Go to Settings  > Select a Company > Toolbox > Houzz > General Settings > Enable Inventory Upload > Save.
---