Overview
The Delta User Interface in Sellercloud offers a modern and user-friendly platform for e-commerce management. It simplifies tasks like inventory management, order processing, and sales channel management, making it easier for sellers to navigate and optimize their online operations.  This article will walk you through the different ways to access Delta if you are using our Legacy Interface.
We have also introduced User Notifications, only available in Delta, to help you keep track of important events of your operation.
---
Log into Delta
Unless you are a
Client Admin
, your Alpha
user permissions
will not automatically transfer to Delta. Your Sellercloud
Client Admin
must assign a security template before you can log into Delta for the first time. These permissions can later be edited.
Once your access rights are granted, there are 3 ways to log into Delta:
Direct Server URL
The URL to access Sellercloud's Delta interface is similar to Alpha, but includes text delta,  instead of cwa:
Delta URL

– Server ID.

delta

.sellercloud.com (for example, xx.delta.sellercloud.com).

Alpha URL

– Server ID.

cwa

.sellercloud.com (for example, xx.cwa.sellercloud.com).
If you choose to use your direct server URL, there will be no prompt to populate a team name – simply enter your Email and Password and click Login. Check the Remember Me box to save your credentials on trusted devices.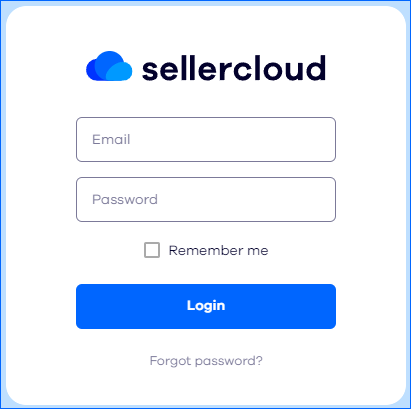 In case you don't remember your credentials, use the Forgot password? link.
Delta Login Page
Another option to log in is to use the Delta login page. There, you should populate a team name to direct you to the correct server.
If you don't know your team's name, or if your company doesn't have a team name yet, contact
Sellercloud Support
.
To access Delta: 
Populate your username and password, and click

Continue

. If you are an existing Sellercloud user, use your existing team name.
App Switcher
You can also easily transition from the Alpha UI and different Sellercloud applications to the Delta Interface, simply by clicking the App Switcher button located at the top right corner of your screen.
---
Generate QR Code 
The Generate QR code feature allows you to conveniently generate and print 2D login barcodes for yourself or any other users of the application, making it easier to handle tasks related to user authentication and access control.
To generate a QR code: 
Navigate to the

General

panel.

Choose whether you want to generate the code for yourself, or someone else.

Enter the required email address and password fields.

Click

Generate QR

.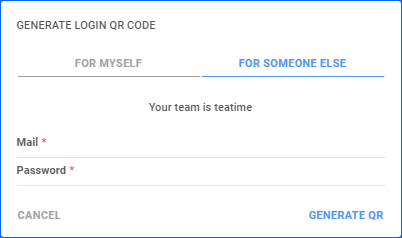 You can use the generated QR code for easy access to all Sellercloud mobile applications.
---
User Notifications
You can find the Bell Icon in the top right corner of your screen when you are logged into the Delta Interface. If there are new notifications, there will be a small number, with the color of the most pressing unseen notification:
Red – indicates there is an Urgent notification.
Orange – indicates there is a High Priority notification, but no urgent ones.
Blue  – shows you that you only have Standard Priority notifications.
Green – these are Custom Notifications.
If you do not see the User Notification Icon in your account, contact
Sellercloud Support
to configure the Admin Setting that will enable this feature.
---