Overview
Dropshipping is when a seller transfers customer order and shipment details to a manufacturer rather than stocking their own goods. This takes away the need for picking, packing, shipping, and maintaining your inventory.
---
Prerequisite
Learn how to create Vendors, assign a Default Vendor, and enable your products for Dropship in bulk.
See complete instructions on the initial dropship configuration and an overview of the related client settings
here
.
---
Dropship on a Case-by-Case Basis
Orders > Manage Orders > Order Details > Actions > Dropship.  
After the status updates, Send Email. This will send the PO to the vendor.
After the vendor sends confirmation, update the order's status to reflect the order's current dropship status.
When the status is updated to Processed, enter the tracking number and shipping data. The order's status at the order source (Amazon, eBay, etc.) will update and the tracking number will be posted.
---
Dropship Multiple Orders
Open Manage Orders > Select all orders to dropship. 
Action Menu > Dropship > Go. 
On the list of selected orders: Choose Vendor > Enter the Vendor Order ID (if enabled in Client Settings) > Dropship. 
Click the envelope to Send Email for each PO.
---
Dropship with a File upload
Select a file export type from the dropdown menu on the Dropship Preferences page (see Dropship Configuration for more information). Contact Sellercloud Support to confirm which file meets your requirements. If none is available, Sellercloud developers can create an export format for you.
---
Dropship from a Feed-based Vendor
Different import options can be set via plugins or with the inventory import mapping tool. Sellercloud can customize the platform to accept your vendor format and update inventory accordingly.
A feed-based vendor is a vendor whose quantity is fed into your inventory. When dropshipping from this type of vendor, you should disable inventory for their dropshipped POs. This ensures your inventory count isn't impacted or adjusted for pending or actual dropshipped orders. To do this, enable the setting Do Not Count Inventory For DropShip PO.
Go to Purchasing > Vendors > Manage Vendors.
Select your Vendor > Toolbox > Dropship Preferences.
Click Edit > Do Not Count Inventory For Dropship Orders.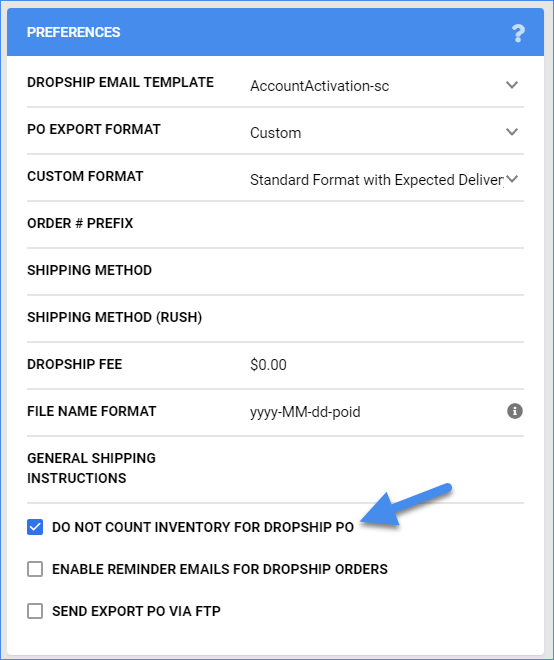 Any order that comes into Sellercloud will reserve the ordered item and reduce the aggregated quantity by default. Enabling the above setting negates that from the workflow.
---
Mark Products/Orders Automatically as Pending Dropship
Catalog > Manage Catalog > Select product > Toolbox > Shipping Preferences.
Click Edit > Go to Method > Dropship Mode > Ship from Vendor or Ship from Manufacturer.
Once you've enabled the above setting for an item, any order that comes in for that item will only attain a Dropship pending status, which will prevent it from going into Shipbridge. It will have to be dropshipped manually.
The order and purchase order are linked to show a relationship and to track order fulfillment. The order and purchase order can be printed out together by clicking Actions > Print Invoices to PDF with PO on the order or PO details page.
---
Print Labels for Dropshipped Orders
When orders are fulfilled by a third party – either dropship vendor or 3PL (third-party logistics) – you may be asked to forward actual labels to the fulfillment center.
Orders with a valid Dropship status ("Pending") and an associated Dropship PO will have an option in the Action Menu to Print Shipping Labels.
Go to Orders > Manage Orders > Open an order.
Fill in the fields and click Generate Label. A PDF will be generated for printing or emailing to the appropriate party.
After generating the label, the order will be updated to Shipped and the dropshipped PO will be updated to Received.
API credentials must be configured for the selected carrier on the company's
shipping API
page.
---