Check out this short video on multi-package shipping with ShipBridge!
---
Understanding multi-package shipping
With ShipBridge multi-package shipping, you can divide an order into multiple packages and shipping labels in a simple and streamlined process. By adding packages, and dragging and dropping items, you can distribute the shipping contents into the desired packaging arrangements.
---
Shipping in multiple packages
An order with multiple items may need to be shipped in multiple packages. You can add packages to an order in ShipBridge. This can be done from the Main Order Grid or from the Scan and Ship window. 
If from the

Order Grid –

select the order you want

 

to divide into multiple packages.

Continue with #

5

 below.

 

If from

the Scan and Ship window

 – after scanning the products, press the 

Edit Packages

button. Continue with #

6

 below

.

 

Move Items

 – Split your items into separate packages by dragging and dropping them into the appropriate package.

 

Move Units

– To split units from a single item, right-click on the item and click on the 

popup

 

Move units to another package

. A window will appear to select amounts of units to move.
---
Confirming multiple packages
with signature
To require signature confirmation per package instead of per shipment, open the Menu > Options > Shipping tab and enable the setting Use per-package signature confirmation. Then, restart Shipbridge.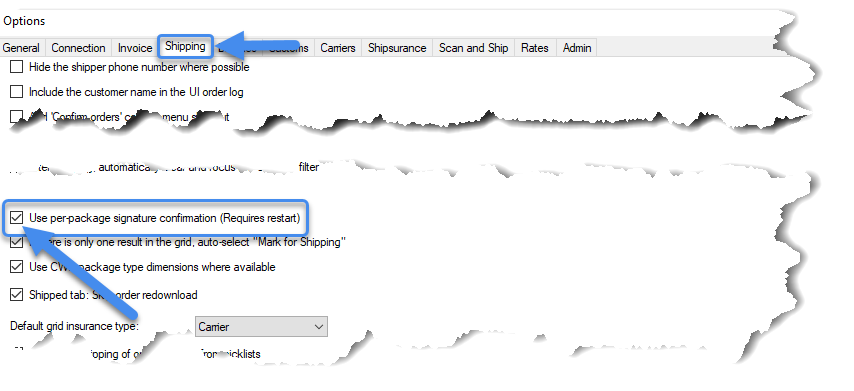 For multi-package orders, the regular Signature Required check box on the order will be hidden. Instead, configure the signature from the main grid or using the Edit Packages (also available on Scan & Ship)
---