Proposition 65 timeline
If you sell products in California – regardless of your business location – Proposition 65 applies to your business. Other states are likely to start imposing similar regulations based on this and other legislative trends:
November 1986 – Proposition 65 ("Safe Drinking Water and Toxic Enforcement Act of 1986") is enacted to require the state of California to maintain and update a list of chemicals known to the state to cause cancer or reproductive toxicity. Most companies complied with a broad product warning like "This product may contain a hazardous chemical that may cause health risks."
2016 – Law is reformed make Prop 65 warnings more useful to the general public and to guide business as to how and where to provide warnings.
August 30, 2018 – Amendments effective this date apply to all products manufactured after this date that are sold in California. These amendments make Prop 65 far more enforceable.
Under the new regulations, a business must place specific warnings that include the chemical's name and its health risks onto product labels and websites to be protected under safe harbor.
Sellercloud compliance features
Sellercloud offers a group of features to automate your Prop 65 compliance processes. You can use any ones you want or all three:
Flag products with Prop 65 warnings – Product orders will require acknowledgment in ShipBridge before shipping is allowed.
Mark a product's channel's properties with "Has Proposition 65 Warning" – Sends the information to all major marketplaces. Amazon, eBay, Walmart, Houzz, etc., that have catalog attributes to flag the item as subject to Proposition 65 – and to show the warning message.
Use your own custom product/shipping plugin rules for Prop 65 compliance.
Learn more about each of these features below.
---
Flagging products with Prop 65 warnings
This option lets you flag a product with a warning for the warehouse to acknowledge before shipping the product. This allows them to confirm that the product has the appropriate labels before leaving the warehouse. While product warnings can be added for any purpose, you can leverage this feature for Prop 65 compliance.
Follow these simple instructions to add and acknowledge product warnings.
---
Marking products' channel attributes with 'Has Proposition 65 Warning'
For products requiring Proposition 65 compliance, Sellercloud lets you set the product's channel properties to flag those items as subject to Proposition 65.
Using the channels' Has Proposition 65 Warning setting and adding a warning message will make the listing compliant on that product's page. Sellercloud supports this feature in all of the major marketplaces, including Houzz, Newegg, Sears, Walmart, Amazon, and eBay.
In Product Summary > Toolbox > Channel > check the Has Proposition 65 Warning box and enter your message: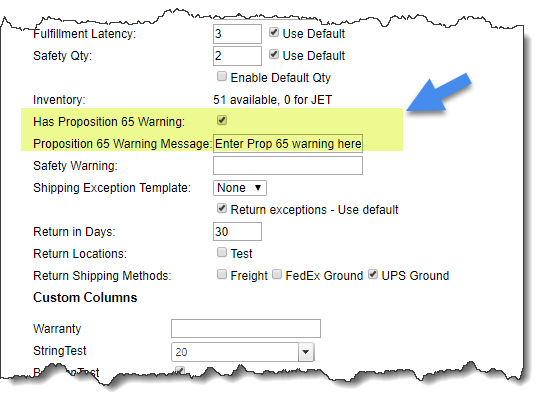 Product warnings are automatically included in the attributes sent to the respective channels that are listing that product. That is, when you check the generic product flag, the related channel-specific attributes are automatically updated and sent to the channel to ensure that everything sent to the channels will be compliant.
---
Ordering custom plugins
You always have the option to order a custom plugin using rules for your unique business to ensure Prop 65 compliance. Learn more about: