Overview
The Inventory Arrivals report provides a comprehensive summary of the arrival of items into your warehouses. It includes details such as the SKU, product name, quantity received, date of arrival, vendor information, and more. This report helps you track and manage your inventory by keeping a record of when new stock arrives and is available for distribution.
---
Manage Inventory Arrivals
To use the report, follow these steps:
Go to

Inventory > Inventory Arrivals

.

Set up the

Default

and

Custom filters

to have the report show what you need.

Click

Search. Each filter you apply gets highlighted in a different color. If a filter is gray or not displayed at all, it's not active.


To manage the columns in the report, click the

three dots icon

on the top right and select

Customize Columns

. You can:

Reorder columns by dragging them up or down in the list;

Hide columns by clicking the

Trash

icons;

To sort the data differently, use the

Sort by

menu.

To take action, click

Actions

on the bottom right:

To export the report, select

Export to Excel

,

Export To PDF,

or

Export With Serials

.

To view selected items on the

Manage Inventory Page

, select

View In Manage Inventory

.

To add selected items to an

FBA Inbound Shipment

, click

Add To Fba Shipment

.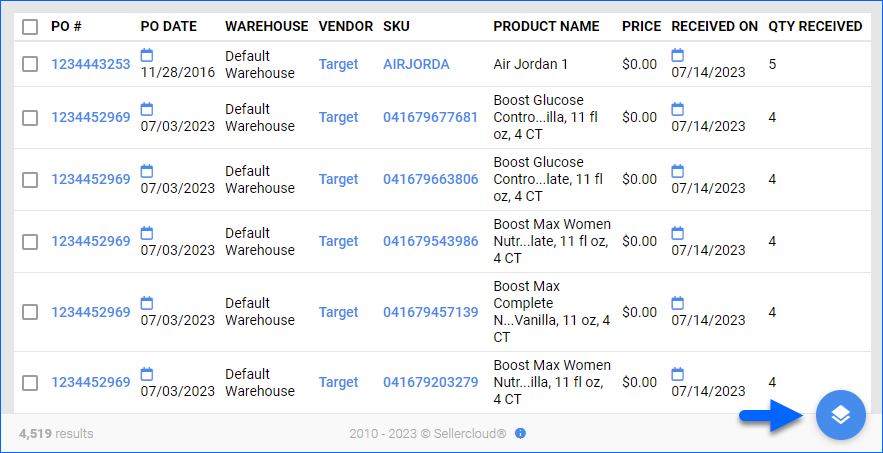 ---
Filter and Column Definitions
See the tables below for filter and column definitions.
Filters
FILTER
DESCRIPTION
PO IDs

Include only specific

purchase orders

by ID.

Company

Include only POs from a specific

company

.

Buyer

Include only POs by a specific

buyer

.

Vendor

Include only POs from a specific

vendor

.

Manufacturer

Include only products from a specific

manufacturer

.

Warehouse

Include only POs received at a specific

warehouse

.

SKU

Include only specific products.

First-Time Arrival Only

Include only first-time arrivals.

Date

Include only POs received within a specific period.

Received By

Include only POs received by a specific

employee

.
Report Data
COLUMN
DESCRIPTION
PO #

Shows the PO number.

PO Date

Shows the PO creation date.

Warehouse

Shows the receiving warehouse.

Vendor

Shows the vendor who sold the product.

SKU

Shows the product's SKU.

Product Name

Shows the product's name.

Price

Shows the product's unit price on the PO.

Received On

Show the PO receive date.

Qty Received

Shows the received product quantity.

Qty Before Receive

Shows the product quantity prior to receiving.

First Time Arrival

Shows a checkmark icon to indicate if the item is a first-time arrival.

Avg Cost Difference

Shows changes in the

Product Average Cost

.

Receive Invoice Number

Shows the receive invoice number.

Received By

Shows the email address of the employee who received the PO.

Vendor Order ID

Shows the vendor's order number.
---