Overview
Shipbridge has a user-friendly installation manager and configuration wizard to help you during the installation and configuration process.
In this article you will learn how to configure Shipbridge using the Configuration Wizard.
---
Configure Shipbridge
Sellercloud offers you several ways of configuring your Shipbridge account, including customizing settings during installation, using the Settings folder to seamlessly copy the configuration over to other Shipbridge stations and running the Configuration Wizard even after installation.
The process of configuring Shipbridge during installation (rather than after) is described in the Installing Shipbridge article.
Use the Configuration Wizard
The Configuration Wizard runs as a part of the standard installation process. However, you can use it any time you need to adjust the options that were set up during installation.
To launch the Configuration Wizard, you must:
After checking system requirements, the Configuration Wizard will prompt you to enter your Sellercloud credentials. It will then navigate you through several pop-up windows, enabling you to set up the most essential Shipbridge options.
Use Settings Folder
All the options you set during or after installation are stored in the Settings.xml file. You can find this file by navigating to Help > Open ShipBridge Settings Folder.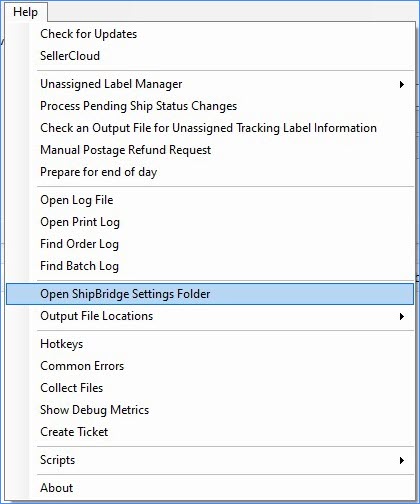 The Shipbridge Settings Folder can be used to back up your settings, or to speed up the configuration process on multiple computers. Configure Shipbridge once, download the settings file and upload it to the Shipbridge Settings folder on each computer you need to run the same configuration on.
For an advanced guide on setting up your Shipbridge options visit this page
here
.
---