Overview
This article gives detailed information on the interface panels and how to use them. The Shipbridge interface is highly customizable to meet your business's needs. Read more about how to customize your Shipbridge interface here.
---
Navigate Shipbridge
Organized by functionality, ShipBridge's interface can be divided into five panels. The picture below shows the location of each panel and its name. 
Settings

 

F

ilter

Order 

G

rid

Address

L

og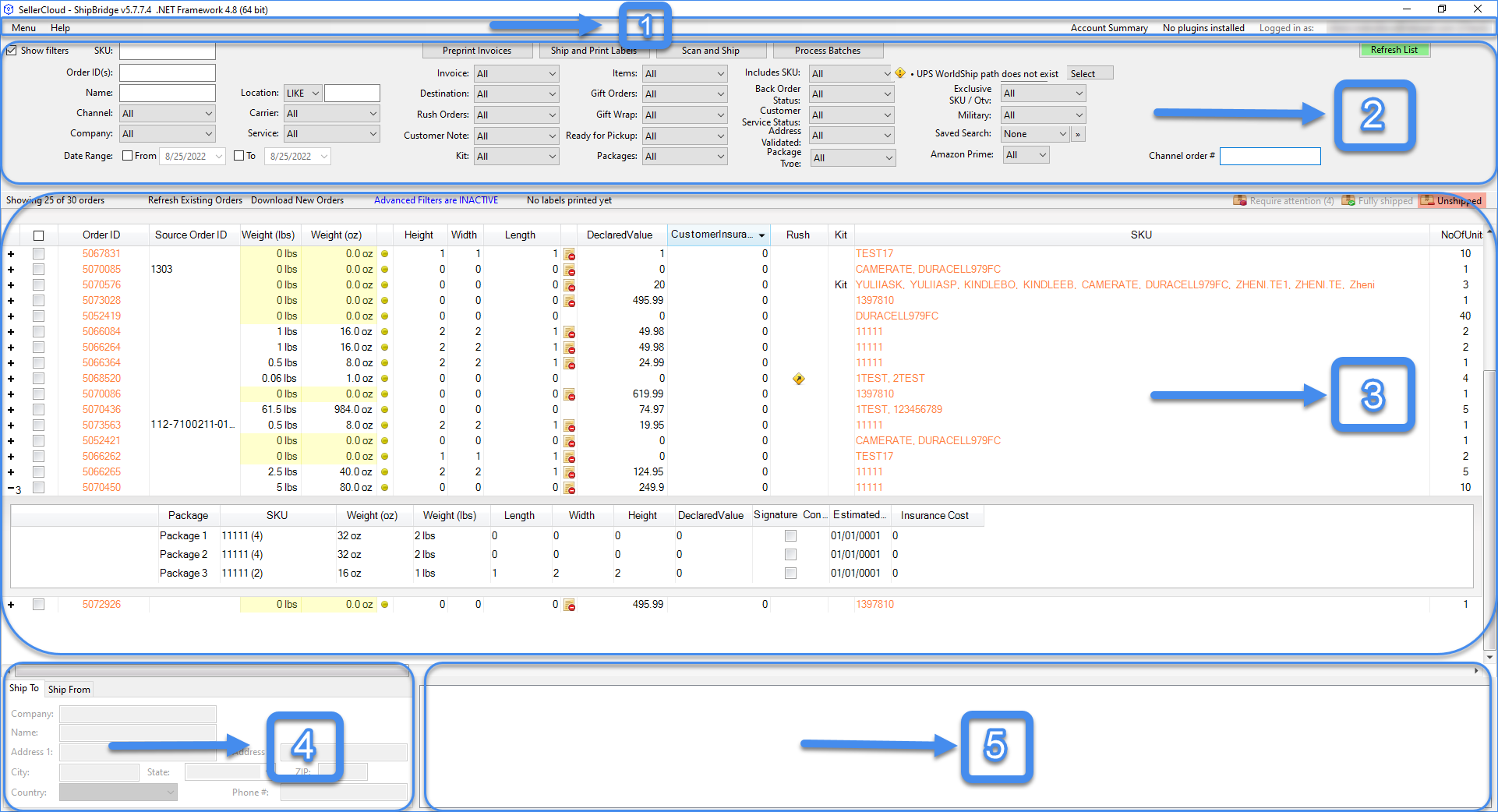 ---
Settings panel
The Settings panel is located at the very top of the application window.

The panel includes the Menu and Help drop-down menus, account summary, list of installed plugins, and login information. 
---
Filter panel

The Filter panel has many filters that can be used to narrow down order searches. These include common filters like SKU, Order ID, Customer name, channel, and Company as well as more advanced filters, like multi-item and rush orders, address validated and backorders, and others. 
Checking and unchecking the Show Filters checkbox displays or hides the filters. 
---
Order Grid panel
The area shows all the orders, both shipped and unshipped, one row for each order. 

The Order Grid has three tabs: 
Requires Attention

Fully Shipped

Unshipped

 
---
Address panel
The address area has two tabs: 
Ship to

 
---
Log
The Log is located in the bottom right corner of the application window.

The Log displays errors and notifications. To see the logs, go to Help > Open Log File. 
The same ErrorLog file can be opened by double-clicking on the error message in the log area. 
Notifications
The Log also shows customer notes, handling instructions, customer service notifications, and gift notes. 
Clicking Acknowledge in the notification area switches the note icon in the Order Grid.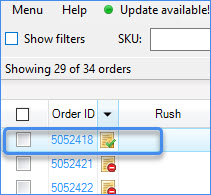 ---
Using 

ShipBridge

 Hot Keys
ShipBridge hotkeys can be used to easily perform the following actions: 
Ctrl+O – Open the Options window.
Ctrl+P – Open the Postage log.
F6 – Open the Rate Calculator and shows shipping rates.
F7– Open Scan and Ship.
F10 – Ship and print labels.
F11 (order selected) – Preprint invoice.
F12– Read weight from scale.
In the ShipBrige application the Hotkeys list can be found here: Help > Hotkeys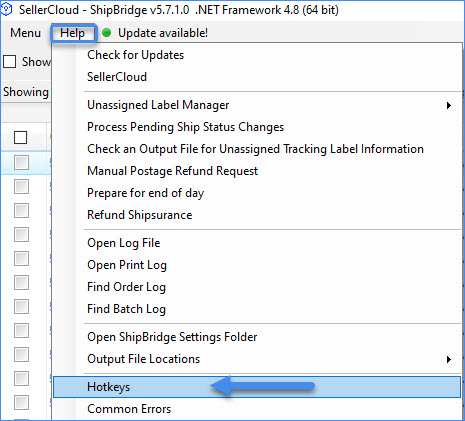 ---
Refresh Cache Option
You can use this option as a resolution to many different issues that may occur within the application, such as when you can't see recently made changes in Shipbridge. Refresh cache to bring up those changes in effect. The Refresh Cache option might speed up the functionality of your Shipbridge application.  Please note that after refreshing the cache, Shipbridge may take a bit longer to start.
---