Overview
Sellercloud's Financial Reporting Suite is a rich data source for you to analyze your business performance effectively. Thanks to various reports, Sellercloud offers an easy way to track profit and loss, orders, transactions, product inventory, and more.
Check out this short video introduction to the Financial Reporting Suite.
---
Reports Basics
These are the basics you need to know about Sellercloud reports:
Sellercloud offers ten unique categories of reports. Each category includes multiple reports. Some categories also include visual dashboards. 

Reports and dashboards offer easy-to-set-up filters to get the specific data you need.

You can customize the reports by changing how your data is sorted and displayed.

You can export your filtered or unfiltered report data to a spreadsheet, unlocking many possibilities for further data manipulation and analysis.

You can contact Sellercloud Support to request a custom-made report.
---
Get Started
To access the reports section, select Reports in the navigation menu on the left.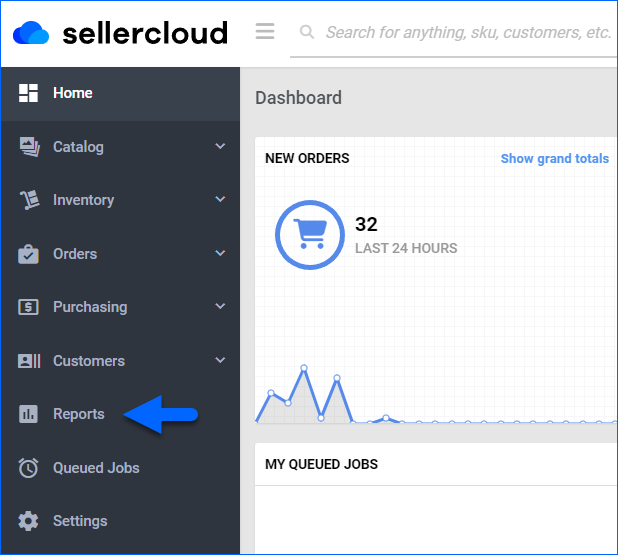 Next, select a category and choose the report you want to run.

---
Reports Categories
Sellercloud offers over sixty reports broken down into the following categories:
The following sections briefly introduce you to each category, explain what it is for, and list the available reports. Click the links for step-by-step instructions on using a specific report.
Reports marked with an asterisk (*) can run automatically on a regular basis with
Scheduled Tasks.
Simply select the 
Task Type: Reports 
and configure the dropdown options in the 
Details 
panel.
Profit & Loss
Profit and Loss (P&L) reports are essential to financial management. These reports allow you to clearly understand your profit and loss, broken by product, order, time range, and more. They provide insight into revenue, expenses, and overall profitability, allowing you to track progress and make better decisions.
Sales
The Sales reports category provides valuable information and insights into your sales performance. These reports offer a comprehensive view of various aspects of sales, including order history, product performance, and sales trends.
Orders
Orders reports provide valuable insights into order activity. You can track how many orders you received, how much you made from the orders, see your top-ordered and most profitable products, and so much more. These reports help you understand your performance and make better choices about your future business operations.
Returns & Refunds
Returns and Refunds reports provide information on orders' returns, refunds, and reimbursements. These reports help you identify problematic products and effectively manage returns, refunds, and rebates.
Shipping
If there is one thing customers genuinely enjoy, it is timely shipping. Therefore, shipping reports are crucial in streamlining the shipping process and optimizing delivery times. These reports provide valuable insights into shipping operations, allowing you to improve your shipping strategies and enhance your customers' experience.
Inventory
Inventory reports are vital in managing your inventory and ensuring the optimal utilization of resources. These reports provide a comprehensive overview of inventory quantities, values, costs, sales, and historical data to help you stay on top of inventory management. 
Products By Component
Products by Component reports provide valuable insights into the performance of products. They are most helpful for tracking sales of products as components of kits, but you will also see the quantity sold as regular products. The reports also include sales of components in independent kits.
Transaction
Transaction reports are product-based reports showing transaction details, such as payments and refunds. You can track revenue and expenses, learn about the cost of returns and reimbursements, check the tax per transaction, see vendor invoice details, and more.
Settlement
Settlement is the process of transferring funds from a payment processor or acquiring bank to a merchant's bank account. The settlement process reconciles the transactions and ensures that the funds from the customer's payment are accurately credited to the merchant's account. Settlement reports contain information about a channel's order-related fees, commissions, and taxes.
Reconciliation reports are intended to match the transactions recorded in an online store's financial records to those processed by payment gateways and banks to ensure the reliability and accuracy of financial reporting. These reports help ensure that all financial transactions have been recorded accurately and identify and resolve any discrepancies between the online store's records and the records of the payment gateway and banks.
Customers & Receivables
Accounts receivable aging is a method used to track and manage unpaid invoices from customers. It involves organizing unpaid invoices by the time they have been outstanding. These reports help you identify overdue invoices and which customers are most likely to pay or not pay.
---